Samsung's New Phone Patent: The Latest Move In The Bezel-Less Race
An all-screen phone seems to be in the works.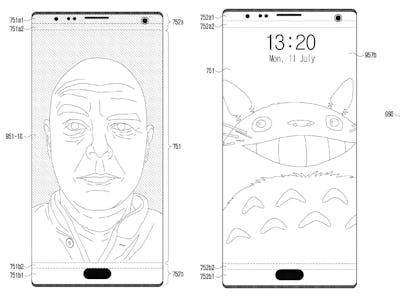 Samsung
Edge-to-edge screen design has been the holy grail in the smartphone industry for years. Companies like Apple and Google have touted almost getting there, but failing to deliver. Even the iPhone X has that notch atop the screen to prevent that truly all-encompassing screen experience.
But it looks like Samsung has made a pretty big stride in the race for the bezel-less phone. On Thursday, the World Intellectual Property Organization released a patent the Korean tech giant filed in May that depicts what seems to be an all-screen phone.
The document is titled "Electronic apparatus having a hole area within screen and control method thereof." Don't worry, that isn't the name Samsung is thinking about giving this concept phone, but it's the technique they're going to implement to get everything a phone needs to function onto an edge-to-edge screen display.
What was keeping prior phones from going all-screen was that there were no good ways to incorporate the speaker, front facing camera, and fingerprint scanner onto an all-screen display. Companies used notches and borders to accommodate these features on previous phones.
In these newly released designs it seems that Samsung will be cutting little holes onto the top and the bottom of this phone in order to slot in these basic phone features. So if this concept ever becomes a reality the front facing camera, speaker, and fingerprint scanner will be jutting out of the screen.
Samsung hasn't been shy about flexing their extremely bendable screens at events like CES 2018. So if there's one company that is going to make these adjustments to smartphone screens it would be them.
Remember this was just the release of the patent of the phone, Samsung hasn't made any official announcements or statements regarding it. The phone is still in its conceptual stage and it will likely stay that way for a while.