Why Google Arts and Culture Face Match Doesn't Work in These Two Big States
It's a question of privacy.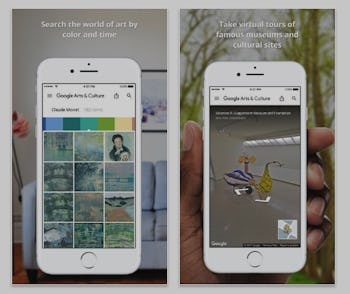 Apple App Store
The Google Arts and Culture app conquered the internet this week with the addition of its Face Match feature, which lets users see what work of art their selfie most resembles. But the feature isn't available everywhere, with those outside the United States searching for ways around the region block — and the residents of two big American states also left out in the cold.
Google has blocked the feature in Texas and Illinois. While the company hasn't given an official reason for the move, the obvious explanation is that these are the only two states with specific privacy laws that would conflict with how the app works. Considering more than 40 million people live in those two states, that means about an eighth of the American population is missing out on the feature.
According to The Houston Chronicle, both Texas and Illinois have strict biometric privacy laws set in place that prevent technology from obtaining people's identifying characteristics without their prior informed consent. That includes fingerprints, iris data, and facial features, the last of which means the app can't work without Google first getting permission from every potential Illinoisan or Texan user on how the data can be used.
While such a step would hardly be implausible, if maybe a bit impractical, Google has apparently decided it's not worth the trouble. It's made the feature unavailable to anyone within those two states. The Chicago Tribune notes Illinois residents suddenly found the feature available when they left to visit other states, while others sent selfies to friends elsewhere to find out which historical image they matched with.
There are no federal equivalents to Illinois and Texas's biometric privacy laws, though the blocking of the app in these two states underscores the potential privacy implications of the seemingly innocuous app. A Google spokesperson told The Washington Post this week that the app uses the data from users' selfies only for the art match, with the photos removed after the process is completed.
The app became a huge success in just a couple days, jumping to the top spot of Apple's App Store downloads chart. A big part of that was the massive social media presence the app enjoyed in the past week, where users took to Twitter, Instagram and Facebook to show off Google's machine-learning ability to identify and match them to paintings.
The way it works is the app scans your entire head in your selfie, including its positioning, and compares it with art pieces from a database of over 1,200 museums from all around the world.
And that's how you find the painting model that looks the most like you — providing you take a more adventurous view of biometric privacy than Illinois and Texas do, that is.
Additional reporting by Alasdair Wilkins.