Google Arts and Culture Face Match: How to Get It Outside the U.S.
There is a way to access the feature from other regions.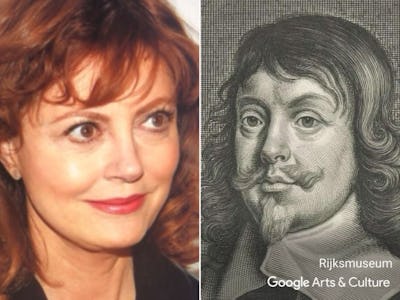 Google wants to match your face to works of art, but only if you're in the right location. The company's Arts and Culture app rolled out a feature this month that pairs up selfies with a historic doppelgänger, but some users were saddened to find the face match feature is only available to select users in the United States. Fortunately, there is a way around getting the Google face match feature in the United Kingdom, Canada, and other regions.
While the app has been available through Google Play and iTunes since 2016, the introduction of the selfie feature caused a surge in popularity over the weekend as people uploaded their findings to Facebook, Twitter, and Instagram. But while users outside of the United States look for a way around the geo-block, Google is remaining tight-lipped. TechCrunch reported on Monday that the company has declined to reveal its rollout schedule for the app. "It's still experimental and has been region-blocked," reports the tech news outlet.
But when there's a will, there's a way. Here's how to access the feature from regions that have yet to receive the Google face match update:
This will make Google's servers think you're in a different country. There are a number of free and paid options, and Reddit offers a thread of recommendations to get started. If you're unsure about taking out a new payment plan, you could take a free trial from a provider like ExpressVPN before committing to a subscription. Alternatively, if you want a lifetime subscription with no monthly fees, there's VPN Unlimited available for $39.99.
2. Install your VPN of choice onto your smartphone.
Many offer apps from their main website, or otherwise provide instructions on how to access their service.
3. Connect to a United States server through your VPN of choice.
4. Install the Google Arts and Culture app from your smartphone's app store.
The app is available through Google Play and the iTunes store.
5. When the app is loaded, scroll down until you see this screen:
6. Take a selfie.
7. Enjoy your newfound selfie!
And that's it! If you're interested in finding out more about your match, clock the face to learn more about the art. The app catalogs works from over 1,000 museums in 70 countries, allowing you to search through Van Gogh's work, see the transformation of Monet's work over time, or take a tour of Rome's street art scene using Google Street View.