How to Get Google Arts and Culture Face Match App
Learning about art history through selfies.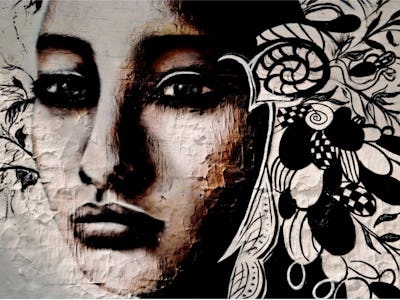 If you thought selfies were the ultimate sign of vanity, Google Arts and Culture just upped the game by allowing you to compare your likeness with that of a work of art. That's right, your selfie habit is being used to teach you about art history.
The Google Arts and Culture App, which launched in 2016 — and can be downloaded through Google Play and iTunes — came out with a new feature that allows you to take a selfie, upload it, and compare it with a doppelgänger in one of several art museums worldwide. And though the app is a few years old, it's been blowing up lately thanks to the new selfie function that went live for most people in the United States this month. Want to find out what classic work of art your face resembles? Here's a step-by-step guide to figuring out your art world doppelgänger.
See also: How Google Arts and Culture's Face Match A.I. Actually Works
1. After downloading the app, scroll down until you reach this thumbnail in the home screen:
2. Take a selfie using the app's built-in camera. (We tried it with a New Yorker art cover to go extra meta.)
3. And ta-da! The app will provide you with a swipe-able (of course!) list of art that your photo resembles.
4. As an optional fourth step, you can click on your doppelgänger to learn more about the art. Our "selfie" apparently looks like untitled street art created in 2011 in Buenos Aires, Argentina.
Google Arts and Culture does a lot more than just allow us to imagine ourselves as an artist's muse. The app is part of Google's Cultural Institute, which allows users to immerse themselves in cultural experiences across art, history and wonders of the world — from more than a thousand museums across 70 countries," as it said in a 2016 blog post introducing the website and app.
You Might Also Like: "Improve Your Life With These 7 Wires on Amazon Prime (Yes, Wires)"
Formerly known as the Google Art Project, which launched in February 2011, the initiative aims to make great art more accessible in this digital age, using some of the technological tools that Google has created.The website and app employ Google Street View, for example, to provide virtual tours of museums around the world. While it started with 17 museums, today it includes art from over a thousand museums across 70 countries, from the British Museum (with nearly 9,000 items) to the National Museum of Mongolia in Ulaanbataar (with only 95 works).
The selfie feature is an innovative way to introduce the internet to great art. Clearly, sometimes vanity can be a good thing.
Hi there. You've made it to the bottom of this story! Speaking of which… we're giving away an epic $5,000 ski trip to Banff, Alberta. Click here to enter! ⛷
See also: "Why Google Arts and Culture Face Match Is the Best New App of 2018"