Bitcoin Holders React to the January Crash in the Cryptocurrency's Value
It's a mixed bag of emotions.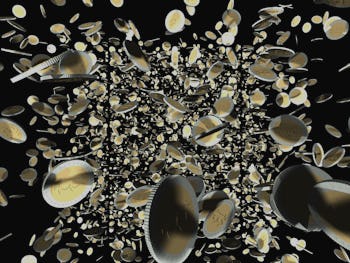 Flickr / fdecomite
The bitcoin community is in mourning, and rightfully so. In just 24 hours, the world's leading cryptocurrency has plummeted in price. The token has dropped below $10,000 for the first time since early December in what seems to be a reaction to the sudden push from multiple national governments to regulate crypto trading.
While a lot of traders have rushed to sell their bitcoin during this time, many investors are still holding. While their posts on Reddit and Twitter have been rather bleak, many of them as are hopeful and supportive as one can be at a time like this.
In a thread on the front page of the bitcoin subreddit titled "possibly the worst thing about this crash…" redditor BluntLord satirically recounts all of the condescending cryptocurrency shaming they have heard at their office.
"All the shit I have to hear in the office," the post begins. "The god damn 'i-told-ya-so' from John. 'I have no idea how stocks or anything like that work but i know bullshit when i see it. I can't believe people were dumb enough to buy fake money.' Yea ok mate, if i need a status update on that box of donuts in the break room, you're my go-to guy."
It seems that a lot of holders — or hodlers — have faced the same time of criticism and comments. Redditor terr547 linked to a short paper that was written to help encourage those losing hope in bitcoin to stay strong and to focus on how to improve the infrastructure and the community surrounding the cryptocurrency for the future.
"Bitcoin is not about the money, but about the community we are building. You are all infinitely important. Don't ever forget that," the paper states.
The resounding message among the holders has been don't panic, and maybe just walk away from your computer for now. However, Redditor GerNoky writes that hanging tight is impossible for some people who made risky investments.
"It's not always as easy as 'just [hold]'," they explain. "Sure if [you] have the money to spare to put in and then 'forget about it' or you believe in the technology and are in this because you are some revolutionary that wants to change the global financial system, then it's different. But that realistically is a minority of the people in crypto."
Those who are still hanging on to their bitcoin are all coping with the devaluation that has hit the cryptocurrency that was once almost at $20,000 in their own way. This moment has made it clear that you have traders should carefully pick their crypto investments in this new year.