Google Face Match App Thinks Anakin Skywalker is Elvis Presley
Star Wars gets weird on that face match app.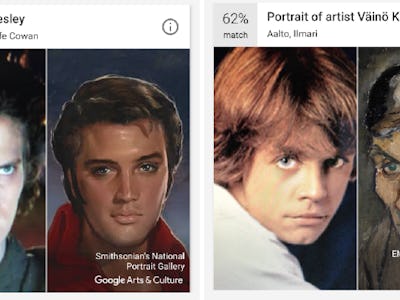 Google
By now, unless you're hiding away on Jakku, the Google Arts & Culture Face Match App has dominated your social media feed more efficiently than the Empire's invasion of the Rebel Base on Hoth. But, what happens when you show the faces of characters from a galaxy far, far away to the lauded and addictive app? Well, it turns out the algorithm of Google Arts & Culture thinks that Jedi Knight Anakin Skywalker is King of Rock n' Roll. That's right, the Hayden Christensen is Elvis Presley, according to the Google algorithm.
The vast majority of Star Wars characters manage to find a likeness similar to their own visage when you snap pictures of them. But, Anakin is a special case. Though it's no the first result in our Anakin Skywalker face match, a portrait of Elvis Presley from the Smithsonian's National Portrait Gallery is the second image that matches with Anakin Skywalker's. What do Anakin and Elvis have in common? Well, a lot. Both were very talented, and both had a downward spiral that was somewhat tragic. However, of the two of them, we'd rather have Elvis whisper sweet nothings to us romantically.
Here's how a few other Star Wars characters turned out on the Face Match App.
Queen Amidala and Princess Leia
Strikingly, both matches for Leia and her mother, Padme Amidala are self-portraits. Which, is fitting for both of these independent women.
Rey and Kylo Ren
Both Rey and Kylo Ren's art history matches feel accurate. And yes, it feels easy to imagine Kylo Rn as being a young man with apples, back when he still went by Ben Solo.
Han Solo and Finn
While Han looks decidedly older when matched with his art history double, Finn looks just about as cool as he should. Though, we don't think calling Finn "random," is quite right.
Obi-Wan Kenobi and Ahsoka Tano
Obi-Wan certainly looks like himself in art museums, while Ahsoka seems to have the highest portrait match of any of the Star Wars characters we tried.
Which brings us back to father and son Skywalker. Luke certainly looks like himself, but Anakin as Elvis is still blowing our minds.
Also, we'd be remiss if we didn't mention that multiple attempts to do face matches with Darth Vader, Boba Fett, Jar Jar Binks, Admiral Ackbar and Jabba the Hutt all failed. Which suggests that perhaps, George Lucas's most original artistic creations, are in fact the characters who are perpetually hidden behind some kind of mask.
You can learn about downloading the Google Arts & Culture Face Match App right here.