MUSIC RELEASE OF THE WEEK | Kacey Musgraves
Kacey leans into her influences on 'Pageant Material'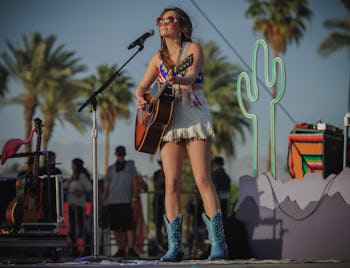 If you're looking for a record that's going to shake the very fiber of the industry, Kacey Musgraves' new record Pageant Material ain't that. The Texas-born singer and songwriter first exploded onto the scene with her first single "Merry Go Round," a somewhat cynical song about the inertia of your hometown. In it, Kacey bemoaned the cliches — expectations of settling down and small town tradition — instead of celebrating them, and for whatever reason this positioned her as an iconoclastic figure in the country music landscape. But to label Musgraves as someone hellbent on shaking up the way of things — "Another gear in a big machine doesn't sound fun to me," she sings on Pageant Material standout "Good Ol' Boys Club" — is to misunderstand her current goals as a musician on her new album.
While there's lot of sharp writing and pointed songwriting, Pageant Material isn't at all revolutionary or mold-shattering. Instead, it's a well-written, well-arranged record that finds Musgraves leaning into her influences — Willie Nelson, Loretta Lynn, Dolly — more and dismissing some of the brattiness that some might rather have her indulge. More or less written during the same sessions as her Grammy-winning debut Same Trailer, Different Park, Pageant Material is a more confident, comforting release. Led by singles like "Pageant Material" and "Biscuits", Musgraves deftly crafts new spins on old sounds. Her attitude and personality is intact throughout — even if the record is missing something like the sweet rallying cry "Follow Your Arrow". Pageant Material delivers hooks and concise, smart writing at every turn.
Though Pageant Material might not be the definitive statement that some are looking for, it's an arresting record even with the edges sanded down a little. Two records in, it's clear that Musgraves is playing the long game.