Bitcoin Price Surge Even Benefits Startups on the Fringes of Crypto Mania 
Pusher saw a record surge in messages.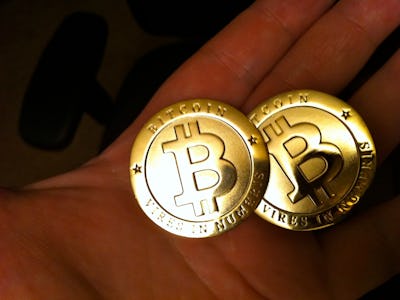 Flickr / zcopley
Cryptocurrencies have surged in popularity in recent months, and its effects are filtering down to other players in the space. The London-based startup Pusher has been providing messaging tools and real-time features for six major cryptocurrency exchanges. On Monday, it revealed that because of the surging interest, it's delivered a record number of messages in a single day.
"Cryptocurrency trading platforms are seeing increased demand from consumers, and Pusher (and other developers tools companies) are providing shovels and pickaxes in the cryptocurrency gold rush," Sylvain Giuliani, chief operating officer at Pusher, tells Inverse.
Pusher powers six major trading platforms: Bitstamp, Yobit, Korbit, Koinex, Quoine and Bitcoin.co.id. As Bitcoin surged in price over 2017, starting in January near the $1,000 mark and edging close to $20,000 in mid-December, Pusher also saw the benefits. On a single day in December, the company delivered a record 40 billion messages, with a sixfold growth in messages in the days of the month leading up to the record. This trend has continued into January, with numbers approaching that record.
It's the latest in a number of companies seeing a sudden surge in interest off the back of cryptocurrency. Kodak, the legendary photography firm, saw its stock price triple when it announced earlier this month plans to incorporate the blockchain technology into its image rights platform. Similarly, beverage manufacturer Long Island Iced Tea saw its stock double in value last month when it revealed a name change to "Long Blockchain" and a plan to explore the technology further.
Pusher's technology isn't about messages like you see on WhatsApp or Facebook Messenger. It's all about keeping on-screen information up-to-date, like lists and graphs. Pusher needs to ensure that as the number of cryptocurrency users grow, these charts remain accurate:
"We implemented Pusher in only a few days and it worked like magic," says William Sutanto, chief technology officer of Bitcoin.co.id. "We had 500,000 members register in the last three months and published over 2.5 billion messages daily. Pusher scaled well and was able to accommodate our traffic without a single downtime."
However, it may not be long before the rush to crypto dies down. A drop in value across the board on Tuesday has left some market watchers worried, with 98 of the top 100 cryptocurrencies seeing drops over the 24-hour period. Whether it's a correction, or a larger trend caused by legislative action, remains to be seen.