The Real Problem with Silicon Valley's "So-Called Sex Parties"
'Maybe call it a sexual harassment party instead," says entrepreneur in attendance.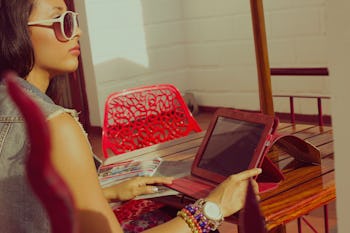 Unsplash / Tatiana Niño
"About once a month, on a Friday or Saturday night, the Silicon Valley Technorati gather for a drug-heavy, sex-heavy party."
So starts a new expose of Silicon Valley's alleged sex parties by journalist Emily Chang in her upcoming book, Brotopia, which was excerpted this week in Vanity Fair — and heavily disputed in the days since.
According to Chang, this sort of party is an open secret for those in the know. They have highly skewed gender ratios that allow Silicon Valley's largely male elite to take advantage of younger women in a system of double standards. The excerpt of her book — which comes out February 6 — set off a series of further reports, first-hand disputes, and counter-accusations.
A Case of "He Said, She Said"?
In a Medium post published on Wednesday, entrepreneur Paul Biggar, who was at the party described in the Vanity Fair excerpt, said that while he did not see group sex or drugs, he did find Chang's article to be, overall, accurate.
I can confirm many of the details at the party. The invite, the investor whose house it was, the decor and setup for the cuddle puddle. I've since spoken to Emily Chang and nothing she said is at odds with what I saw.
This wasn't billed as a sex party; it was official party of the VC firm. But we were certainly primed for it — there was a sorta "wink-wink, nudge-nudge" thing going on. We were warned before going not to be freaked out about the stuff there, no photos were allowed(!), and definitely don't tell anyone what we saw. I actually texted my cofounder "I think I got invited to a sex party."
Expanding on his Medium post, Biggar tells Inverse that "half the people thought it was a professional party, and half the people thought it was a Steve and Genevieve party," referring to Steve Jurvetson, his former wife, and venture capital firm Draper Fisher Jurvetson (DFJ), which he ran until he was outed last fall. While the reasons for his dismissal are still unclear, some outlets reported it was due to deceptions regarding personal relationships, as Recode reported at the time.
"Steve's friends are focused on the statement that there was no sex there, no nudity, that sort of thing, but the point of [the anonymous source in Chang's book is] that there was a cuddle puddle, and that she felt obligated to take drugs because it was a work event — they're trying to deflect from that in their statements," Biggar tells Inverse.
Biggar did not name DFJ in his original Medium post, but Axios did on January 11, leading DFJ to publicly apologize for the event:
"We were dismayed to learn of behavior at the party that was completely at odds with DFJ's culture, which has been, and will continue to be, built on the values of respect and integrity. We would never want anyone to feel uncomfortable and we are sorry if that happened."
The already-viral story gained even more notice when, as tech stories seem, inevitably, to do, Elon Musk, was drawn into the debate. Musk told Wired:
"That DFJ party was boring and corporate, with zero sex or nudity anywhere. Nerds on a couch are not a 'cuddle puddle.' I was hounded all night by DFJ-funded entrepreneurs, so went to sleep around 1am. Nothing remotely worth writing about happened. The most fun thing was Steve lighting a model rocket around midnight."
On Friday, another attendee of the party, Mason Hartman, took to social media to dispute Chang's reporting, saying that despite being at the Lost City/Glamazon party "until nearly 5AM", she saw no sex or nudity and minimal cuddling.
Hartman also highlighted that her experience of the party was shared by other attendees. According to a screenshot that she posted, Alexander Green described his night as sitting around "talking about Bach and machine learning and OpenGL all night."
In an email to Inverse, Hartman adds that in addition to the inaccuracies of Chang's reporting, she's worried about the effect that the narrative of men preying on women will have on girls: "I'm really, really concerned that young women interested in tech are under the impression that there's no support for someone like them or that anyone who offers help is just waiting to make a move. That hasn't been my experience at all."
Chang Responds
On Friday, Chang responded publicly on Twitter that "at a large company party, different people have different experiences. In this case, one of my sources was propositioned there, others describing drug use or felt uncomfortable."
In her tweet, she stands by her reporting, and tries to refocus the conversation on the "much broader culture that has largely left women out of the greatest wealth creation in the history of the world."
When reached for comment, both Chang and her publicist referred Inverse back to her tweet.
Chang's Story Brings Up Bigger Questions
Perhaps Chang's book excerpt struck such a nerve precisely because, for its critics, her reporting confirms the worst suspicions of Silicon Valley, while for its supporters, the story — or "the media circus around it" — just feeds into "what people want to read about — sex, drugs, bondage, whatever," says Hartman.
And, of course, all of this takes place in a cultural moment when women's experiences in the workplace are at the forefront of a wider national conversation. Ultimately, whether readers believe that the DFJ event in question was a sex party or not, Chang's story brings up wider questions about the roles, opportunities, and opportunity costs for women in tech.
Says Hartman, "there are real issues…and the distraction element [of the supposed sex party] is really bothersome to me."
Meanwhile, Biggar has this take on the "was it a sex party or wasn't it?" debate. "Steve Jurvetson might think that having a cuddle puddle in a work context is OK," but he, for one, disagrees, and suggests, "maybe call it a sexual harassment party instead."