How This Car Crashed Into the Second Floor of a California Building
It's a more common occurence than you think.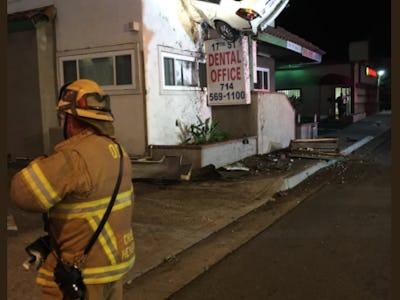 Orange County Fire Authority
Early Sunday morning, Orange County Fire Authority responded to a car crash in Santa Ana, California. It looked like a picture from a movie scene, with a white white Nissan Altima lodged into the second floor of a local dental office.
According to local authorities, the vehicle crossed three lanes before hitting a center divider, soaring through the air and straight into a second story building. Local news stations also report that the collision took place shortly before 5:30 a.m., and resulted in a small fire. One of the individuals involved in the crash was able to get out of the vehicle without help, while the other one required rescuing.
Local news station KTLA reported by 7:50AM local time, the situation was under control, with the car finally being removed from the dental office located at 319 East 17th Street. KTLA also reported that the driver had admitted to using narcotics before the crash, and is now in the hospital for observation.
While a vehicle in the windows of a second-floor building may seem like an unlikely scenario, vehicle-on-building collisions are actually quite common. According to Ameriprise Auto and Home Insurance, an average of 60 cars crash into retail stores, office buildings, and restaurants every day, killing over 500 people a year.
In 39% of these crashes, the driver was going straight right before the crash happened, while in 25%, the driver was actually in the process of parking. These would lead to more minor accidents, though, and not the high-speed collision that put this vehicle into the second story of a building.
The victims of the car crash are very lucky to have survived, since the Association for Safe International Road travel estimates that over 37,000 people die from car accidents in the United States every year, with an additional 2.35 million people injured or even disabled.