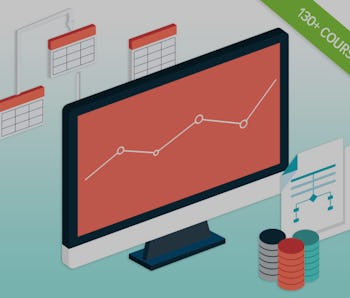 Innovation
Get More Than 130 Big Data and Analytics Courses for 97 Percent Off
Learn how to crunch data like a pro with this analytics course bundle.
Stack Commerce
If you love being gainfully employed in today's shaky professional landscape, a more-than-cursory understanding of "big data" and analytics is indispensable. It may seem daunting with all those numbers and spreadsheets, but learning data analysis can really pay off and help your company stand out from the rest, or it can help you stand out from that one desperately annoying coworker who you hate.
That's where The Ultimate Data & Analytics Bundle comes in, which features 130 courses and 800 hours of content. This training "boot camp" will teach you how to master data science techniques, uncover hidden patterns and correlations, and track trends. It all sounds very complicated and impressive.
You Might Also Like: How to Become a Computer Science Whiz Without Spending a Fortune
The bundle covers topics like business intelligence, cloud computing, data visualization, and cluster analysis. And while those all sound like insane, terrifying words right now, once you finish the course, you'll be using them confidently and terrifying other people.
The Ultimate Data & Analytics Bundle usually goes for $1,699, but Inverse readers can get it right now for just $39. That's 97 percent off, which I know is a good deal even without taking all these smart courses.