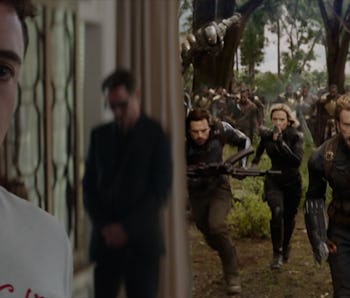 Entertainment
'Avengers 4' Might Bring Back Tony's 'Civil War' Tech, Not Time Travel
Netflix
Since there's a powerful space rock called the Time Stone, some Marvel fans are convinced the Avengers will travel back in time for 2019's still-untitled Avengers 4. However, a new paparazzi photo suggests that it's not space magic but good old-fashioned Earth technology, courtesy of Tony Stark, that will bring the Avengers back a few years.
On Thursday, a paparazzo on Instagram named Joe Passori (@passorijoe) shared a photo from the set of Avengers 4 in which crew members are handling a case containing props. The case has a revealing label. Written in Sharpie, the case reads "Binary Augmented Retro Framing," otherwise known by the acronym "BARF." If that sounds familiar, it's because MCU fans have seen BARF used in the beginning of 2016's Captain America: Civil War.
While visiting students at MIT, Tony Stark (Robert Downey Jr.) began Captain America: Civil War by revisiting a traumatic family memory: the Christmas weekend his parents died — or, as he'd later learn, murdered.
Tony's extremely rare episode of opening up to the public was to demonstrate the comprehensive AR tech of BARF, which "hijacks" the hippocampus of the brain "to clear traumatic memories." The scene in Civil War, notably, had a younger RDJ (like, Johnny Be Good Robert Downey Jr.), made possible in a similar fashion to Carrie Fisher in Rogue One: A Star Wars Story, or Johnny Depp in the most recent Pirates of the Caribbean.
Because of Tony Stark's sophisticated technology that basically creates a living "memory room," it's possible Tony gave BARF upgrades so the Avengers can use it to find a way to fight Thanos. Based on other paparazzi photos, such as the one with Chris Evans in his older Captain America costume, the Avengers will be revisiting the Battle of New York, the watershed event of the Marvel Cinematic Universe that served as the climax of 2012's The Avengers.
Sure, time travel is still possible thanks to Doctor Strange and the Time Stone. But maybe it won't take the power of the cosmos to bring the MCU back to when everything changed in The Avengers. It may just take some brain power.
Avengers: Infinity War will be released on May 4.