Elon Musk Says He Didn't Know He Was Attending an Alleged Silicon Valley Sex Party
He thought it was a costume party.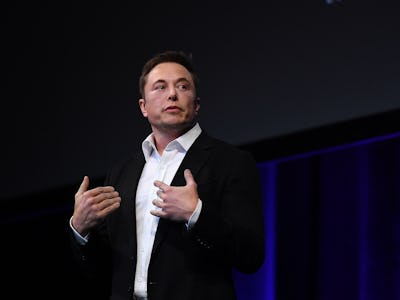 Getty Images / Mark Brake
In Brotopia, a new book about Silicon Valley's bro-centric gender dynamics, journalist Emily Chang describes an allegedly drug-fueled sex party at venture capitalist Steve Jurvetson's home, complete with a living room blanketed in white faux fur and people petting each other in group "cuddle puddles." Oh, and Elon Musk.
OK, Musk wasn't named in Chang's book, an excerpt of which was published in Vanity Fair last week. However, a Medium post by tech entrepreneur Paul Biggar on Wednesday outed Musk as a party guest at the scene described in her book.
Apart from the VCs themselves, Elon Musk was there; I saw him on the dance floor. I don't know him, so I'm relying on vaguely recognizing the dude, as well as being told by our hosts that he was going to be there, along with all the people going "omg, that's Elon Musk."
See also: The Real Problem with Silicon Valley's "So-Called Sex Parties"
A spokesperson for Musk tells to Business Insider on Thursday that he did indeed attend the party, which, based on Chang's reporting, was full of MDMA, and leaned "heavily toward male-heterosexual fantasies." At least one VC dressed as a bunny. (Not Musk.)
Unfortunately for all the Musk-fic writers out there, it looks like the Tesla CEO didn't partake in any of the action. According to his spokesperson, Musk thought it was costume party, did some business, and was out the door by 1 a.m.
"Elon was at the party for a couple hours and left around 1 a.m. after talking with several DFJ-funded entrepreneurs about technology and building companies," the spokesperson says. "His impression was that it was a corporate party with a costume theme, not a 'sex party', and there was no indication that it would become one after he left."
As the photo below shows, Musk seems to love a good costume party:
According to Chang's source, the party's invitation asked for "glamazon adventurer, safari chic and jungle tribal attire." But according to Chang's book, the real theme of these kinds of soirees are pretty well known in Silicon Valley, so it's interesting to hear that Musk had no idea what he might have been getting into had he stayed past 1 a.m.
Brotopia explores the toxic gender double-standard in Silicon Valley, where sexual expression and experimentation is available for powerful men, but stigmatizes and disadvantages the women who work in tech. The book will be available February 6.