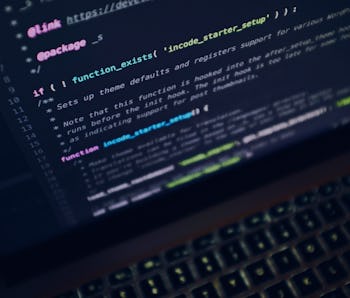 Culture
What Is Anon-IB, the Revenge Porn Site at the Center of a Government Scandal
Unsplash / Luca Bravo
In August, someone from an IP address connected to the U.S. Senate posted the following comment on the website Anon-IB: "Looking for wins of [redacted]. She used to send nudes to my friend all of the time. Would love to see some more."
If the first part of that post sounds like gibberish to you, it's probably because you've never used Anon-IB, the "anonymous image" message board where users are encouraged to post sexual or explicit photos, called "wins." The photos are generally of women, and the site has become synonymous with revenge porn, the act of distributing sexually explicit photos of a person without their consent in the hopes of intimidation or as a punishment.
In a Daily Beast report released Thursday, data collected by a security analyst reveals that some Anon-IB users have been connecting from a number of government offices, including the Senate, the Navy, and even the Executive Office of the President. Another Senate ISP post reads like this:
"Wow tig ol bitties. You have any nudes to share?" someone wrote in November, underneath a photo of a woman who apparently works in D.C., while connecting from an IP address registered to the U.S. Senate.
According to the report, much of the Senate IP activity is focused on a subsection of Anon-IB called Fakes/Xray. This place sucks, and it gives you a really good idea of the kind of content available on Anon-IB. Users post women's selfies and other photos and then request that fellow users photoshop the images to look like the women are either naked or engaged in a pornographic act — or often both. A lot of the photos shared on the board look to be of women that could be under 21.
You can also search for images of women based on location, by either country or state. Users can also name women, sometimes with photos, and then ask the community if anyone has nudes of the woman in question. A user from the Senate ISP did exactly that; they posted an image of a model with the comment below, according to The Daily Beast:
"Girl I know from [location redacted]. She was a [college redacted] and has the best tits I've ever seen. I would love to find some wins."
Anon-IB was one of the sites used to disseminate the massive swath of celebrity nudes back in 2014 that became known as "Celebgate," or "the Fappening."
Although posters' usernames are simply shown as "anonymous," followed by a random combination of numbers, a source showed a security analyst with the Norwegian newspaper VG named Einar Otto Stangvik how to legally pull IP addresses from the site. Stangvik analyzed the data and shared it with The Daily Beast.
It's worth noting that the Executive Office of the President actually includes a lot of different agencies other than the oval offic. Still, the fact that anyone that works for the government could be using their time to engage with a site that's rife with illegal content is pretty egregious, regardless of where the employee works.
An IP address can't confirm which individual is responsible for what activity — only the activity's location. It could be a government employee or a visitor who is logged into a government ISP. The Anon-IB posts could be coming from a hacker, re-routing their activity through a government ISP for kicks, but it seems unlikely. The Daily Beast makes mention of the fact that there's no public record of the Senate or the Executive Office of the President's ISPs having been compromised.
This is far from the government's first rodeo when it comes to revenge porn. The U.S. Navy already found itself embroiled in scandal last year when members of the Marines Corps continued to post derogatory and sexually explicit imagery of female service members in a new private Facebook group, even after their first group was shut down.