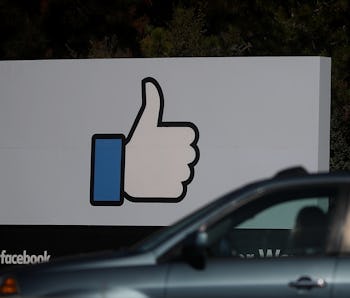 Culture
To Tackle Revenge Porn, Facebook Wants You to Send Them Your Nudes
Sounds fishy... but could it work?
Getty Images / Justin Sullivan
Facebook has a new way to target revenge porn, and it focuses on preventing users from posting pictures in the first place.
Building on technology announced earlier this year that stops flagged content from being re-uploaded, this new prevention system relies on Facebook already having the image so that it can stop people from uploading duplicates. Of course, for that to work, Facebook needs you to send them your nudes.
Yes, that concept sounds a bit creepy, but it could be valuable to users who know that an ex-partner or a Tinder date gone wrong has photos and videos that would be embarrassing, even damaging if they got out. The technology relies on a partnership between Facebook and a small office of the Australian government that promotes online safety, according to a statement released last week.
The plan is currently in "the limited global pilot" stage. Though it's not clear how the process might would change in the future, here's how it works for the time being. Users who think their photos could be used as revenge porn on Facebook's platforms can submit a report online to Australia's Office of the eSafety Commissioner. The office then gets in touch with Facebook, which directs users to send their photos over Facebook Messenger.
E-Safety Commission Julie Inman Grant told the Australian network ABC that the system is "secure end-to-end" and that Australia's office does not store anything that's reported. Of course, Facebook itself has to store the photo for this to work, which means the plan is necessarily only as secure as Facebook's own servers.
Once Facebook gets the photo, "image matching technology" is used to "hash" your content, which creates a sort of digital footprint, ABC reports. Anyone that tries to upload the same image, which has the same footprint, would be prevented from doing so on Facebook, Messenger or Instagram, the statement says.
"It would be like sending yourself your image in email, but obviously this is a much safer, secure end-to-end way of sending the image without sending it through the ether," Inman Grant told ABC. "We have a great deal of comfort that [Facebook] have chose the most secure route."
This soft rollout looks to expand on Facebook's initiative from April to use artificial intelligence to curb revenge porn, although Facebook at first only said it could take action after a photo was already published, and stop the reported content from being posted again. However, we've all learned that once something is online it never really goes away.
Additionally, when it comes to revenge porn, one post can be all it takes to inflict damage and shame to the victim. Researchers estimate that 10.4 million Americans have been victims of threats or actual posts of revenge porn, according to a 2016 study from the Data & Society Research Institute. This kind of cyberbullying has resulted in child pornograpy convictions, "sextortion", and suicides. While laws banning revenge porn have gained increasing support from politicians, the movement is still relatively new and there are still 12 states without such laws, according to the Cyber Civil Rights Institute.
Facebook, as well as Google and Twitter, have come under fire for its rules and policies that have done little to combat hate speech, death threats, and graphic content. Facebook's initiative is supposed to involve the U.S., United Kingdom and Canada, but no details have been revealed.
If you liked this article, check out this video on five steamy porn facts.