'Emotional' Pepper Isn't the First Robot to Tug Our Heartstrings
The fast-selling Japanese bot is just the latest to blur the line between friend and programming.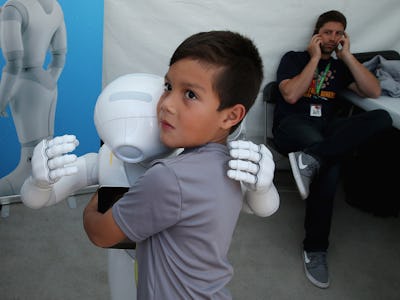 Getty Images
Japan's SoftBank Robotics Corp. has a hit on its hands after reportedly selling out its entire 1,000-unit stock of "Pepper," a humanoid robot, in less than a minute. The big selling point was the possibility that owners would be able to interact with this robot emotionally.
A robot with the ability to sense and respond to its user's moods is the future of robotics. But people — weepy saps that we are — have been filling in the complicated emotional relationship for years now.
One of the most affecting of recent years was about an affair between a man and his operating system. We bought the Tamagotchi because it was the bottomless well of emotional need we hoped could fill our own empty hearts. Or because we wanted to legally/casually torture and kill something. Even more recently, when our robotic dogs run out of replacement parts and die, we hold funerals to mourn our loss.
So while it's great that there's a robot our there programmed to read my moods, I'm not entirely sure I'm ready to open my heart again just yet. Some wounds never really heal.