This Japanese Pop Group is Teaching People About Bitcoin Through Song
The Virtual Currency Girls want you to know about cryptocurrency.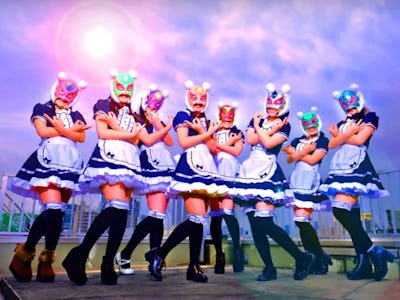 YouTube
Fifty-two years after The Beatles first berated the taxman, there's a new band in town singing about personal finance. Kasotsuka Shojo — a Japanese name that translates to "the Virtual Currency Girls" — wants to educate the world about bitcoin and the wonders of cryptocurrency.
"We want to promote the idea through entertainment that virtual currencies are not just a tool for speculation but are a wonderful technology that will shape the future," says the group's leader, 18-year-old Rara Naruse.
Each member of the eight-person all-girl group represents a different cryptocurrency. Bitcoin is joined by Ethereum, Ripple, and even a fetching green Bitcoin Cash logo to represent the hard fork that took place in August.
The group is set to hold their debut concert in Tokyo on Friday, according to management firm Cinderella Academy. Attendees will be able to purchase merchandise at the show, but only cryptocurrency will be accepted.
Listen to their debut song, "The Moon and Virtual Currency and Me," below:
The song warns about the dangers of fraud, telling listeners to protect their investments with proper online security.
Ever since Japan recognized bitcoin as legal tender in April 2017, cryptocurrency has become a national fixture. This month alone, business-focused coin Ripple has been adopted by three Japanese credit card companies, and Japanese financial information provider Fisco has announced the launch of a $2.6 million bitcoin investment fund. Jpbitcoin.com claims that around a third of global bitcoin transactions in the month of December were denominated in yen.
The Virtual Currency Girls appear to have tapped into a major trend with their launch, but they could find themselves changing direction soon. With a surge in interest around Tron, and the announcement of Kodak's new cryptocurrency, it may not be long before the group finds itself adding new members.