This Estonian Crypto Startup Wants to Put Energy on the Blockchain
WePower has big plans for the future.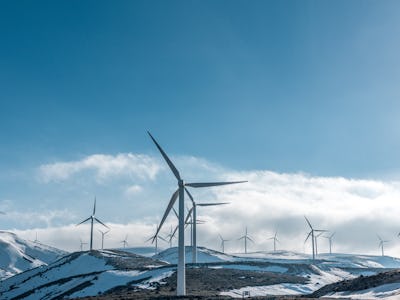 Unsplash / Jason Blackeye
Estonia is stepping up its cryptocurrency game. The Baltic country, home to just over a million people, is set to play host to another blockchain experiment in the form of a green energy trading platform.
The crypto-powered startup WePower will integrate its technology with Estonian gas and electricity operator Elering in a pilot project to see how a national energy trading platform could work in practice.
"The power of digital solutions, such as WePower, is that once proven they can be scaled all around the world," Nikolaj Martyniuk, CEO and co-founder of WePower, tells Inverse. "Our pilot project in Estonia serves as a pivotal point to our technology but the implications will applicable to many countries interested in accelerating the growth of renewable energy to 100 percent renewable market."
It's the latest in a number of steps to incorporate bitcoin's technologies into Estonian life. The country's e-Residency initiative outlined three crypto token proposals last month that would help residents complete a number of tasks online. The ideas are aimed at making small payments immediately, proving a user's identity, and incentivizing people to use the Estonian government's online services.
WePower currently helps renewable energy providers raise capital by issuing "energy tokens" that represent a commitment to produce a certain amount of power. An investor can buy tokens from a wind farm, for example, then use the energy they represent or sell the tokens to someone else. This enables consumers to buy green energy at what WePower claims is a below-market rate.
The Elering partnership, announced Friday, takes this to the next level. It uses Estonia's smart grid infrastructure, including the widespread use of smart meters that provide hourly readings, to provide a real-world test using anonymized data that shows how a global system could work:
Although the initial WePower release is just a proof-of-concept for an Estonia-wide blockchain system, the team is hopeful it could lead to something bigger. WePower hopes the trial will pave the way for a practical test that connects Europe's green energy providers to the Estonian smart grid.
'WePower solution is applicable all around the world," Martyniuk says. "U.K., having similar regulation as EU in the energy market can benefit from WePower both in developing more renewables and accelerating the growth of renewable energy to 100 percent renewable market. WePower, after establishing in first target markets, is looking for further expansion within EU and U.K. as well."