Estonia's Top Futurist Explains How Tech Will Make Countries Obsolete
The country's very own cryptocurrency is just the start.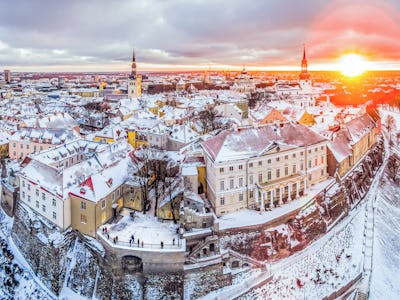 Flickr / VisitEstonia
Kaspar Korjus has big plans for Estonia's future. He's the managing director of the country's e-Residency initiative, a futuristic idea that made headlines in 2014 for allowing anyone in the world to become a virtual resident and start a company. Now, Korjus has a bigger goal in mind: to become the world's first country with its very own cryptocurrency.
The "ambitious new proposal," outlined in a Medium post in August, would expand on the idea behind e-Residency, which has already seen over 20,000 people sign up. With Estcoin, anyone could invest in Estonia, using something similar to Bitcoin.
Mario Draghi, head of the European Central Bank, quickly dismissed the proposal, reiterating in an interview that the currency of the eurozone is the euro and member states are barred from introducing national currencies.
It sounded like the end of Estcoin, but Korjus hasn't given up yet. Inverse caught up with him to find out more about the project, and to find out why Estonia has earned a reputation as a tech trailblazer.
What do you see as Estcoin's major benefits? How does this tie into other initiatives like e-Residency?
Several trends have led us to this proposal. There is strong interest in blockchain-based solutions among our growing community of e-residents. In particular, the rise of crypto assets has led to an interesting innovation in the private sector called an Initial Coin Offering (ICO), which enables companies to crowdfund their finance. Many people already talk about investing in opportunities related to our country — such as companies, projects or bonds. A government-supported ICO would give more people a bigger stake in the future of our country and provide not just investment, but also more expertise and ideas to help us grow exponentially. An ICO within the e-Residency ecosystem in particular would also create a strong incentive alignment between e-residents and this fund, and beyond the economic aspect makes the e-residents feel like more of a community.
There are several ways that the initiative can be structured, but it is important that Estcoin investors gain only when all of Estonia gains. Creating instruments such as Estcoins where incentives between government and holders of these instruments are aligned could be a win-win.
As a government startup, the e-Residency programme combines the credibility and trust of government with innovative ideas from the private sector. Estonia is at the forefront of digital innovation and has already moved forward with many innovative ideas, such as digital IDs, e-governance, e-voting, e-Residency, and data embassies. We try to think in a long-term and imagine how digital public services are going to evolve and how our digital nation is going to look like in the future.
What is the current status of the Estcoin initiative?
The conversation is at a very early stage right now, we are currently gathering feedback from institutions, private sector partners, Estonian officials and experts. However, our goal with presenting the idea of Estcoin was to gather thoughts before moving ahead with developing the idea further. If there is support for this proposal, then the next stage before the Initial Coin Offering could be to provide a white paper that outlines the value of estcoins and how the investment could be used. We think it is necessary to have a meaningful national conversation about if/why we should experiment and try new digital ideas such as this one.
We were actually very glad to see that the conversation has reached the European Central Bank. Indeed, if cryptocurrencies are here to stay (and the fact several countries consider launching their own cryptocurrencies shows cryptocurrencies may be here to stay) then governments will eventually have to figure out how to embrace this digital disruption. However, the Estcoin proposal is based on the idea of issuing crypto tokens, not launching a cryptocurrency. Estonia is of course totally committed to the fact the only currency of the euro zone is the euro.
Why is there such a drive in Estonia to implement the latest and cutting-edge?
When Estonia started building our information society about two decades ago, there was no digital data being collected about our citizens. The general population did not have the internet or even devices with which to use it. The development of Estonia's administration has been done in parallel to the development of the Internet. Indeed, the country already had an expertise in engineering but it took great courage to invest in IT solutions and take the information technology route.
Very quickly, it appeared that digital services were a strategic choice for Estonia to improve the competitiveness of the state and increase the wellbeing of its people, while implementing hassle free governance. Estonia has been the first country to adopt an e-Tax portal, a distributed data system (X-Road), i-Voting, digital ID.
External events have also confirmed our need to develop the best services and expertise. Ten years ago, our country gained the unenviable title of being the first in the world to experience a nationwide cyber attack. Although no data was compromised, the attackers sent large amounts of web traffic to overwhelm systems in an attempt to take them offline. This caused temporary disruption to a country that was already investing heavily in digital governance and emerging as a thriving startup hub, particularly for digital services. As a result, the attack also served as a wake-up call for how the country's digital infrastructure could be further secured through radical new technology.
The longer term impact of the attack is that it helped Estonia develop into what is now widely considered to be the world's most advanced digital nation. Today, almost all public services in Estonia are digitalised and accessed through secure digital identities that are provided to every citizen, resident and e-resident.
What can other countries learn from Estonia's initiatives?
In Estonia we believe that people should be able to freely choose their digital/public services best fit to them, regardless of the geographical area where they were arbitrarily born. We're truly living in exciting times when nation states and virtual nations compete and collaborate with each other on an international market, to provide better governance services.
During the Digital Summit organised by the Estonian presidency of the EU Council, we were very proud to see and hear that several head of States were saying that Estonia's example is inspiring for them. Thanks to Estonia, innovation has been put on top of Europe's agenda.
The Estonian presidency of EU Council is working a lot on e-privacy, copyright, reduction of data localization requirements, and other issues that stand in the way of fully functioning Digital Single Market. We believe it is essential for Europe to embrace technological change to ensure a prosperous and sustainable continent.
How do you see the future of Estonia with all these new technologies?
Estonia is known for its 'firsts'. We were the first country to declare internet access as a human right, the first country to hold a nationwide election online, the first country in Europe to both legalise ride sharing and delivery bots, and — of course — the first country to offer e-Residency.
So, Estonia is going to continue to embrace new disruptions, not to fight against them. The world is changing very fast and countries can easily fall behind if they refuse to address new issues or bury their hands in the sand. We know that Estonia is often named 'the most advanced digital society in the world' and we are very proud of it but it is important not to rest on our laurels.
We believe in the core essence of technology making human lives' better. We are aware of the fact that, in short term, some people may not benefit from technological disruption but in a longer run it is the way forward. And it's exactly because it is important not to leave anyone out that governments and states must be innovative.
The idea of disruption excites some people and terrifies others but you can't fight against it. You need to understand it and find a way to take advantage of it. It's based of this philosophy that the Estonian administration has launched a national discussion about the real challenge of regulating the rise of autonomous machines in order to support A.I. entrepreneurs and protect the public interest. We believe Estonia will continue to be a pioneer in the future.
This Q&A has been edited for brevity and clarity.
If you liked this article, check out this video about Finland's new basic income experiment.