Stay in this Game of Thrones-Themed Ice Hotel
Because winter is already here.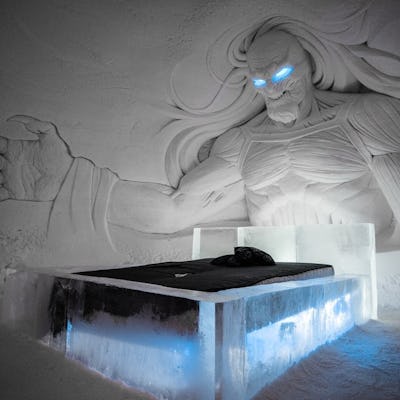 Photo by Tuomas Kurtakko / Lapland Hotels SnowVillage
If you're as devastated as we are that the final season of HBO's Game of Thrones will not return until 2019, you'll be happy to learn that you can get your Westeros fix now, at a new Thrones-themed ice hotel in Finland.
In fact, you better get there soon, because unlike in our favorite mythical kingdom, winter in Finland is not going to last forever— only until April 18.
The hotel has 24 rooms, each with their own unique sculptures crafted into the walls. There's a Braavosi Hall of Faces, an Ice Throne with an icy Mountain standing guard, and a dragon-shaped ice slide in the public areas — and the sculptures in the rooms include a White Walker that peers over you as you sleep. Just in case the 23 degrees Fahrenheit in-room temperatures weren't enough to keep you awake.
The Game of Thrones themed hotel is a collaboration between Lapland Hotels SnowVillage and HBO Nordic in Kittilä, a town that is an hour a half from Helsinki and deep within the Arctic Circle.
While the SnowVillage takes place every year, this is the first year that it's had a Game of Thrones theme.
Condé Nast Traveler reports that the hotel recommends that overnight visitors spend just one night in the igloo and then relocate to one of the cozier cabins nearby — where the temperatures are more comfortable for humans, rather than white walkers.
The Snow Village also has an ice chapel that "hosts 40 to 50 weddings per season", according to Jari Porri, the destination manager, as well as an ice movie theater where, you can learn about how the place was built.
An ice restaurant has a three-course meal that serves reindeer and arctic char, or the ice bar where you can drink in shot glasses made of ice (of course.) Other attractions include an ice sculpture workshop, reindeer and husky rides.
Entry to the SnowVillage is $18 (€15) and rooms start at $200 (€165).