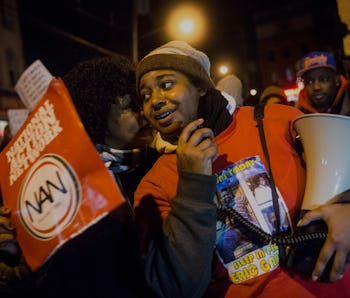 Culture
BLM Activist Erica Garner, Daughter of Eric Garner, Dies at 27
Her father's murder by a NYPD officer spurred the Black Lives Matter movement. 
Getty Images / Andrew Burton
Black Lives Matter activist Erica Garner died Saturday morning after suffering a heart attack on December 23. She was 27.
The mother of two found herself in the national spotlight after her father, Eric Garner, died at the hands of NYPD officer Daniel Pantaleo in July 2014, during an arrest for the minor infraction of selling "loosies", or untaxed cigarettes, outside of a convenience store. The elder Garner peacefully resisted, but Pantaleo put him into a chokehold, a maneuver that is banned by the NYPD, and held him there, even after Garner fell to the ground and screamed 11 times, "I can't breathe!" before his body went limp.
After her father's death, "I can't breathe!" became a rallying cry against police brutality and anti-racism, and Erica Garner became a leader in the Black Lives Matter movement as a writer and activist.
The grand jury found Pantaleo not guilty of criminal charges, despite a ruling by the New York City medical examiner that Eric Garner's death was indeed a homicide by chokehold, as well as a widely circulated video that showed the events.
Eric Garner's family ended up settling a wrongful death lawsuit with the city of New York for $5.9 million, and President Barack Obama directed the Department of Justice open a civil rights investigation into the police officer's conduct. But in the meantime, Erica Garner was galvanized to take direct action.
As Senator Bernie Sanders remarked on Twitter in a tribute, she "didn't ask to be an activist, she responded to the personal tragedy of seeing her father die … by becoming a leading proponent for criminal justice reform and for an end to police brutality". She had worked on his presidential election campaign.
Garner's death was announced via her official Twitter account by family members.
Garner leaves behind two children, including a three-month-old son, as well as her mother, grandmother, and other relatives.
Her Twitter feed has become a tribute to the fiery, tireless civil rights advocate's short but deeply impactful life.