Here's the Capsule That Will Take Elon Musk's Tesla Roadster to Mars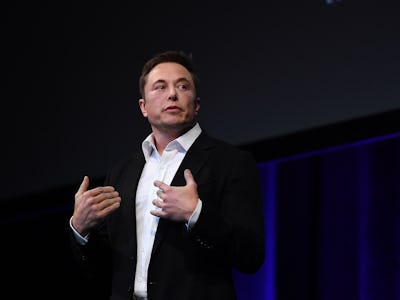 Getty Images / Mark Brake
SpaceX's long-awaited Falcon Heavy launch vehicle is perhaps the company's most enigmatic invention. First there was the series of launch delays, then the question of whether or not Elon Musk was actually going to use the rocket to send a Tesla Roadster into Mars's orbit. Now that all the pieces of the puzzle are coming together, it seems we're getting a peek at the Falcon Heavy fairing itself.
On Tuesday, Reddit user St-Jed-of-Calumet posted an image of the Falcon Heavy's payload fairing — also known as the nose cone — on the SpaceX subreddit. The fairing protects the payload, which in this case, will be a Tesla Roadster "playing Space Oddity, on a billion year elliptic Mars orbit," according to Elon Musk's Instagram.
"FH Fairing spotted at the Cape," the redditor wrote, referring to the Kennedy Space Center at Cape Canaveral in Florida, which is where the Falcon Heavy will launch from.
Inverse found the photo's original poster, which appears to be Emiliano C. Diaz de Leon, who tweeted out the image on Tuesday. It seems he snapped the pic while on a bus tour of NASA's Kennedy Space Center.
In the lead up to the big launch in early 2018, Elon Musk has been dropping some visual hints about the Falcon Heavy. It started last week, when the SpaceX founder posted a pic of the rocket at Cape Canaveral.
Of course, the follow-up pic of the payload is even better:
The Falcon Heavy's maiden launch is a big deal for SpaceX, especially since it was originally set to launch in 2013. Better late than never, though, as it's an absolute beast of a rocket. Its first stage is composed of three Falcon 9 engine cores and 27 Merlin engines. When it launches, this alone will generate more than 5 million pounds of thrust, according to SpaceX.
Although SpaceX plans to phase out the Falcon 9s — and even the Falcon Heavy — in order to focus on its BFR, the Falcon Heavy's maiden launch will be a major accomplishment that's at least six years in the making. As always, ad astra, SpaceX.