10 Startups That Helped Us Survive the Horrors of 2017
From activism to cryptocurrency, these startups covered it all.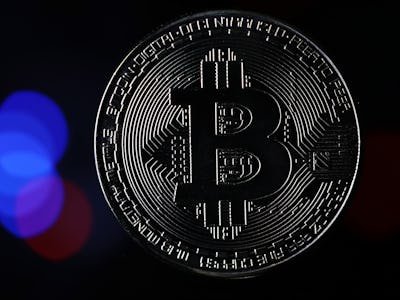 Getty Images / Dan Kitwood
There is no doubt 2017 has been a tough year for many. From a particularly hellish political discourse a seemingly nonstop stream of revelations of sexual abuse to natural disasters that left people without power and basic needs indefinitely: This year had it all, and most of it wasn't great!
And while we wouldn't claim tech can magically solve all our problems, a lot of startups did what they could to ease people's rough 2017. From mental health tools, tips to stay involved in politics without losing it, to just straight-up personal assistance, here are startups that helped provide the year's necessary services.
Woebot
One of the breakthrough academic-based technologies of 2017 is Stanford's WoeBot. The browser extension, built by Stanford psychologists and AI experts, is a Facebook Messenger-based "chatbot" to help users manage their mental health. By checking in with WoeBot daily, the program uses brief daily chat conversations, mood tracking and even word games to help create data charts of your mental health patterns. It even uses humor and empathy to help you get through a rough patch of your day.
Woebot is just one of many mental health and self care-focused startups that launched this year.
Magic
It's an app that bills itself as "like having Elon Musk as your secretary" — and give a lot of us are working as many jobs as the CEO of Tesla, SpaceX, and the Boring Company, it makes sense to have some virtual help. Magic is a personal assistant app that's available 24/7 on demand, responding within minutes. At $35 per hour, real humans behind the app will read your message and send a reply and schedule appointment, among other tasks. "We handle whatever you throw at us," according to the app.
Streaks
Speaking of organization, Streaks made a splash by winning the Apple Design Award this year for its "good habit forming" goals. The iOS app automatically knows when you complete tasks due to its health app syncing. It also encourages you create negative tasks to break bad habits, such as smoking or excessive drinking. In a year where self-care was never more important, having some help staying on top of your vitals is, well, vital.
Concrn
The San Francisco-based app Concrn launched to train volunteers as an alternative to the police when it comes to people responding to mental health crises.
The non-profit startup uses an on-demand app for quick assistance from "first responders." It currently gets between five to 10 requests per day and has responded to more than 2,000 crisis reports since its launch in 2014.
BoycottTrump
Following President Trump's election last year, the #resistance got to work protesting and boycotting the former real estate mogul's ventures. An app called BoycottTrump launched earlier this year to help users keep track of brands endorsed, backed by or connected to Trump. Even companies connected to presidential daughter Ivanka Trump are included. The app shows brands such as 7-Up and shoe retailer 6pm.com as examples.
5 Calls
Speaking of activism, the hottest app of this year's political discourse may have been 5 Calls. The non-profit's goal is to be "the easiest way to call your reps" by providing instant access and contact info to your local government. The site, created by a team of volunteers, has a simple motto to making your voice heard: If you've got five minutes, you can make five calls to your representatives.
Facebook Local
One of Facebook's biggest under-the-radar products is its app Local. Previously called "Events," the recently renamed service allows Facebook users to keep track of their events and check out what's happening locally. The app alerts you to everything from concerts, farmer's markets, art exhibits and even friends' birthday parties happening in your neighborhood.
Sun Exchange
Solar power had a big year in 2017. With all the talks of climate change and environmental causes, one startup made it possible to actually (micro-Invest in solar panels])https://www.inverse.com/article/39078-startup-lets-anyone-bring-solar-power-african-villages-bitcoin). Investors can even use bitcoin to help bring solar power to villages in need.
Brandless
One of the year's banner startup launches was Brandless. The San Francisco-based startup is hoping to bring organic replenishable products to the masses at a low cost. True to its name, Brandless uses minimalist packaging and branding to help cut costs. With most products — from peanut butter to organic sanitary napkins — costing just $3, the company's allure of anti-brands is perfect for its target millennial market.
Coinbase
While it didn't hit the top spot of the App Store until the end of the year, Coinbase managed to become one of the hottest apps of 2017. Thanks to bitcoin's explosive rise, the cryptocurrency wallet app became too popular for its own good at one point. As the most popular platform to buy and sell bitcoin, ethereum and litecoin, Coinbase struggled to keep up with demand during peak times this year.