Brandless Launches Membership Service and Potential Amazon Prime Competitor
Organic just got more affordable.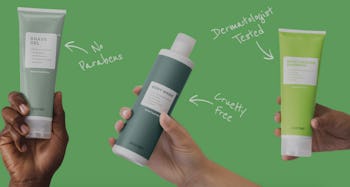 Brandless
Online e-commerce startup Brandless is about to give Amazon Prime a run for its money.
The San Francisco-based company, which launched in July, is known for selling all its ethically-sourced "brandless" items for $3 a pop. Now it wants to go even further with its newly announced B.More service, a Prime-like annual membership to help users save even more by paying a $36 annual fee for free shipping on all orders. Prior to this, members had to spend $48 to receive free shipping.
"Now you can save even more while you load your cart with organic and non-GMO products like granola and coconut oil," co-founder Tina Sharkey tells Inverse.
Brandless typically charges $5 on shipping — which might seem high, except you're saving hundreds on both "clean" products on top of what Brandless has trademarked as "the BrandTax." Indeed, the company has become known for its minimalist packaging that might seem a little dystopian to anybody who's seen a near-future sci-fi movie lately. But millennials are known to embrace the style. The aggressively basic marketing is what helps keep Brandless' prices low.
Sharkey, her co-founder Ido Leffler, along with Brandless Chief Merchant Rachael Vegas — who has who has corporate grocery supply experience from 15 years spent at Target — want to make replenishing quality personal and household supplies accessible to all. This includes delivering them to those living in food deserts and places without access to "better for you" markets like Trader Joe's or Whole Foods.
"We aim to make the best product at the lowest price, that are also comparable to national brands," Sharkey says.
Unlike store-bought items, the startup engineers its products — of which it has more than 200 at the moment — from the ground up with the help of certified suppliers to pass the savings along to customers. "People associate price with quality, but the base cost of producing for a lot of our organic products isn't anymore than conventional ones."
E-Commerce startups disrupting retail by cutting out the middleman isn't new: Companies like glasses purveyors Warby Parker and ethical clothiers Everlane have perfected the "transparency and affordability" model, but the difference Sharkey says is that "People aren't buying items like glasses or denim everyday."
So while Brandless doesn't yet own its own factories, its team is involved we co-formulating, not just packaging, the stuff they sell. The Brandless suppliers don't have consumer facing names you may recognize, they're vetted and well known within the retail community, Sharkey explains.
The B.More membership comes just 18 weeks after Brandless' launch, which saw great feedback from customers, Sharkey says. The company will also donate 10 meals on every B.More member's behalf to people facing hunger, and two more meals every time members shop.
"Within first week we were shipping to 48 states, giving people in middle America access to clean products and beauty supplies."