Winter Storm Dylan: Will Your Christmas Travel Plans Be Thwarted?
You better watch out, you better not cry. Dylan is coming to town.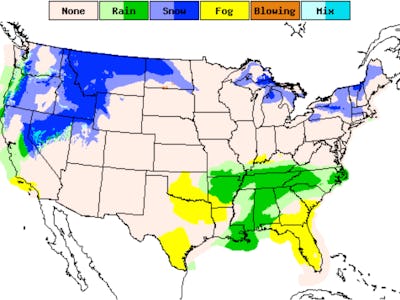 Flickr / alq666
If you're dreaming of a white Christmas, Winter Storm Dylan might give you just that — plus a load of holiday travel troubles — as it visits sections of the Midwest and the Northeast.
As if the holidays weren't chaotic enough, flight delays and cancellations are likely from this wintery system, which is set to bring more than 6 inches of snow to parts of the U.S.
This snowstorm began in the Northwest of the U.S. this past Tuesday and has already brought down as much as 20 inches of snow in spots of the northern Rockies.
Winter storm warnings have been issued to areas in northern Montana, North Dakota, parts of Utah, and the Oregon Cascades mountain region. These places are where most of the snow is expected to fall.
Multiple other advisories extend from the northern coast of California all the way to the top of Minnesota. Snow, sleet, freezing rain, and strong gusts of winds is expected in many of these areas, which could impede some flights.
While no major airline has issued any official flight advisories for this holiday season, it's best to call your airline a day or two before your flight to make sure everything is still going according to schedule. If your airline is still flying to these aforementioned areas, be sure to arrive at your airport early in the case that there are long lines at security.
After Dylan is done wreaking havoc on flight plans across the U.S. it is expected to move across the Atlantic and batter the United Kingdom with 70 mph winds.
For a winter storm, Dylan truly has no chill.
You Might Also Like: Elevate Your Flight Experience With These Travel Hacks