Elevate Your International Flight Experience with These Travel Hacks
Make the trip a bit more bearable.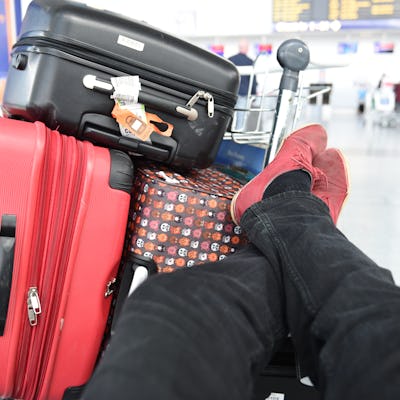 Flickr / Francisco Antunes
So you finally booked that overseas trip you've talked about for years. And though your itinerary is set and you've learned how to say "where is the bathroom" in five different languages, you may have neglected to think about packing for that long plane ride across the ocean. In order to make your trip as smooth as possible, we've got a list of the essentials to help make the most of your intercontinental travel.
Pre-Flight
First off, luggage. Many international flights include a free checked bag along with your carry-on and personal item. But did you know that the allowable size of carry-on luggage differs for each airline? To make sure you're not stuck paying extra, check with your airlines first or consult this handy chart. Or, purchase luggage that says it meets international size guidelines. If you're the kind of person who's tempted to stuff in as much as possible, opt for a hardshell so you don't get caught exceeding the limits with bulging outer pockets.
Depending on the length of your trip and how many different climates you're hitting, you may need to pack several types of clothing. A garment folder is ideal for this situation. By using the supplied folding board (with visual instructions, thankfully), each item of clothing is turned into a stackable square. Fold up the velcro sides to compact your pile and you're left with a slim portfolio that fits a surprising amount of clothing with minimal wrinkling. These come in multiple sizes, and we suggest having two — one for your checked bag and one for your carry-on. In the latter, make sure to have a few changes of necessary clothing in case your checked bag gets lost.
In Flight
If the idea of being in a metal container thousands of feet off the ground for long periods of time stresses you out, you're not alone. Stash a small bottle of lavender oil in your bag and try rubbing some under your nose during the flight. Lavender has been known to help with anxiety and there is some evidence it may have antibacterial and antiviral properties, so it may help prevent picking up germs while in flight.
Speaking of germs, the airplane is pretty much covered in them. From the seatbelt buckle to the overhead vents and the flush button in the bathroom, there's really no escape. Antibacterial wipes are a great line of defense, and it doesn't hurt to wipe down things you'll be spending a lot of time touching like the screen in the seat in front of you or the armrest you'll be jockeying for with your seat mate.
Another key to staying healthy on your journey is water. Planes are notorious for leaving passengers dehydrated, and the complimentary beverages you'll receive in flight aren't enough to combat the negative effects. Try traveling with a collapsible water bottle and filling it up at a water fountain — just make sure you're through security first.
Noise cancelling headphones are a godsend for long flights. Though most brands offer a wireless product, make sure you have the option to use them plugged in so you can take advantage of the in-flight entertainment system. If you're planning on using them to help you sleep, pair them with a fun eye mask.
Most planes now come equipped with USB charging ports built into your seat, but chances are you may be taking other forms of transportation during your trip, and trains or buses may only offer an electrical outlet. A universal adapte is an obvious necessity, especially one with multiple usb ports. It's probably smart to have at least two of these, should you find yourself needing to charge a laptop, phone, those wireless headphones, and hairdryer all at once. And if you're on the go with no outlets — USB or otherwise —keep a portable charger stashed close by.
Post-Flight
Nothing leaves you grimy quite like a long ride, but a few small hygiene tools can help you reach your destination feeling fresh and clean. Rather than haul all your toiletries into the airport bathroom, make up a small ziplock bag with the following: face and body wipe, disposable toothbrush, and a clean pair of underwear. You can toss the wipes and toothbrush and put your dirty undies back into the ziplock (or toss them if you don't need 'em). Never underestimate how good clean teeth and fresh underpants can make you feel.
Finally, when your trip's come to an end and you no longer care if your clothes look like you've been trampled by the bulls in Pamplona, stuff your dirty items into space saver bags to make room for all the souvenirs you're bringing back.
You can find all the recommended items in this Amazon list. Bon Voyage!
Please note the links in this article have been autonomously chosen by our editorial team, and Inverse may receive a small portion of the purchase sale.