Amazon Could be Clapping Back at Google with Its Own YouTube
This is about to get even uglier.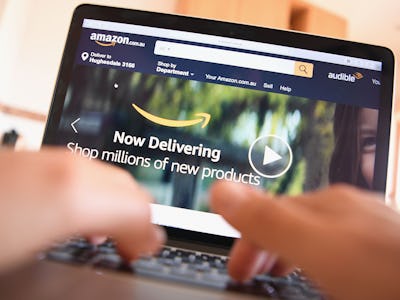 Getty Images / Quinn Rooney
Google and Amazon have been sparring for a long time, but in recent months, their battle has become even more bitter. One particularly contentious element of their dispute is a longstanding issue with YouTube, which Google owns. Basically, Amazon wants the YouTube app to be available on services like its Fire TV and Echo Show. But because of myriad unresolved issues in the two entities' pasts, Google announced on December 5 that it'll pull the YouTube app from these Amazon devices if the companies can't find common ground by January 1.
But that's not even the latest. Federal documents show that also on December 5, Amazon filed two trademark requests with the U.S. Patent and Trademark Office for something called AMAZONTUBE, and another called OPENTUBE. If the name weren't already dead giveaways, the description included sounds very YouTube-like.
Here's just a snippet of the description in the AMAZONTUBE filing, since it's very long:
Application program interface (API) software for integration of video, audiovisual, and multimedia content and functionality into websites, software applications, portable electronic devices, hand-held devices, electronic reading devices, portable media players, mobile phones, smartphones, portable digital devices, computers, and other communications networks; Software for developing and publishing applications for interactive video streaming; application development computer software programs; Computer software development kit consisting of computer software development tools for the development of content and service delivery across global computer networks, wireless networks, and electronic communications networks; User generated content sharing software; Software that enables users to designate specific content for future viewing; Computer software for personalized, interactive television (TV) programming and for use in generating, displaying and manipulating visual media, graphic images, photographs, illustrations, digital animation, video clips, film footage and audio data, and for social networking…
It's a mouthful, but basically, Amazon's describing a streaming video service with the potential to host more media. As TV Answer Man points out, Google could sue Amazon for starting a rival streaming service with the word "tube" in the name.
Somehow, that's not all. DomainNameWire reports that Amazon has been registering lots of domain names recently, including AlexaOpenTube.com, AmazonAlexaTube.com, and AmazonOpenTube.com. Seems like more evidence that Amazon is gearing up for something big and uh, YouTube-y.
Inverse has reached out to Amazon for comment on their plans and will update this post if and when we hear back. For now, we'll sit back and watch the titans battle it out for content.