Google to Pull YouTube Off Amazon Services as Their Cold War Turns Hot
This could get worse before it gets better.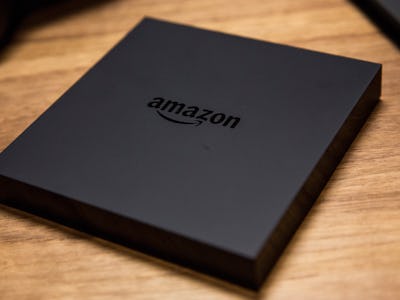 Getty Images / Andrew Burton
Google announced Tuesday its intentions to remove YouTube from Amazon services like Fire TV and the Alexa-based Echo Show. The company set a deadline of January 1 for it to resolve its differences with Amazon before the service is removed.
The decision is the latest and most overt escalation of a long-running feud between the two giants. Both Google and Amazon hope to dominate streaming video products and voice-activated devices, the latter of which is seen as a particularly important growth area in consumer tech.
Amazon has a big advantage over Google when it comes to anything consumer-related: It's the number one seller of, well, everything. And if you want to understand what motivated Google's decision, take a look at what happens when you search for a product like the Chromecast on Amazon.
That's been the case since Amazon's decision to remove the Chromecast — along with the Apple TV — in October 2015. In making the move, Amazon argued it was important any streaming TV products it sold were able to interact well with the Amazon Prime Video streaming service. Whether you buy that justification or not, it underlines the inherent tangle of a company that simultaneously runs the world's biggest general store, makes its own products, and produces and hosts entertainment to be broadcast on said products.
With all due respect to its search engine, Google doesn't have nearly the same kind of trump card that Amazon does to affect what consumers buy, so pulling YouTube is basically its own nuclear option to hit back at its rival.
"Amazon doesn't carry Google products like Chromecast and Google Home, doesn't make Prime Video available for Google Cast users, and last month stopped selling some of Nest's latest products," Google said in a statement. "Given this lack of reciprocity, we are no longer supporting YouTube on Echo Show and Fire TV. We hope we can reach an agreement to resolve these issues soon."
There are reasonable arguments in either direction as to which company is being petty here — "both" is a valid answer — and there's little question that Google's decision to pull YouTube will be a pain for users, just as Amazon's earlier decision to remove Chromecast and other products from its stores cut more casual consumers off from the full range of choices they might expect.
As for what's next, this could prove to be a passing spat, or it may well be the first real shots fired of a battle for tech supremacy between the two leviathans, a conflict that could even theoretically end up taking one or both companies down. Somewhere, Apple is probably looking to just keep a very low profile as its two rivals play around with mutually assured destruction.