Tesla Won't Let Commercial Drivers Use Supercharger, and Here's Why
Uber and Lyft drivers, you might want to stick with your hybrids.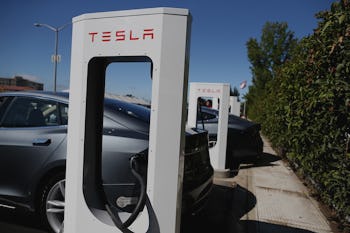 Getty Images / Justin Sullivan
If you're thinking of paying for that flash new Tesla Roadster by taking a side gig as an Uber or Lyft driver, you may want to reconsider, and not just because we're not totally sure a Roadster would meet the ride-sharing companies' requirements.
Elon Musk's electric automobile company announced that cars purchased after December 15 that are used for commercial purposes won't be allowed to use the Tesla Superchargers, the charging stations found along highways. This means that Uber, Lyft, or any kind of taxi drivers won't be able to juice up their electric cars while they're on the job.
The company stated this move is intended to make its battery chargers more accessible to other customers that don't have high-speed chargers at home.
"We are continually expanding our global network of Supercharger stations to enable personal long distance travel and to provide a charging solution for those without immediate access to home or workplace charging, thereby accelerating the widespread adoption of electric vehicles," said Tesla in a statement. "When Superchargers are used beyond their intended purpose, it negatively impacts the availability of Supercharging services for others.
This means Tesla wants professional drivers to purchase home chargers as opposed to having them use their high-speed battery chargers. Tesla isn't forbidding people from using its cars for commercial purposes, but it would likely make it trickier to use a Model 3 as an Uber if the driver must repeatedly pop back home to recharge.
Superchargers are intended to give drivers going long distances a fully charged battery in a matter of minutes, instead of hours. It appears the company doesn't want commercial drivers unfairly hogging these chargers, seeing as they are doing more driving than the average person.
The statement even went on to say that if commercial drivers are found to not be complying with this policy the company would "take additional action to protect the availability of Superchargers."
It's unclear what these actions would entail and how Tesla would know that a person is using one of their cars commercially.
However, this policy would force commercial drivers to purchase better Tesla home chargers, which could cost upwards of $1,000 on top of what the car already costs. If they don't have the money for that, Uber drivers would have to carefully plan their trips or risk being left without juice in the middle of the highway.
Note: An earlier version of this post incorrectly stated the policy affects all Tesla cars as of December 15. It only applies to cars purchased after that date. Inverse regrets the error.