Fans Almost Rioted at One 'Star Wars: The Last Jedi' Screening
The "uprising" happened after technical difficulties at a screening.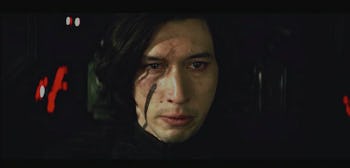 Walt Disney Studios Motion Pictures
The Force was not strong at the AMC Burbank 16 in Burbank, California, Thursday night. Following some technical difficulties at one Star Wars: The Last Jedi screening, some overeager fans basically started a riot.
Imagine you've waited months and years for Star Wars: Episode VIII. During your screening, The Last Jedi starts — but the dialogue sound is muted. All you hear is music for around ten minutes. What do you do? Well, at this particular screening, eager fans streamed into the lobby to complain to the staff. What ensued was riot-tier madness.
In a video posted to YouTube, you can hear some fan screaming, "Reeeestart it!" and another, "Restart the fucking movie!" When the staff said they couldn't restart the film, the demand rose to an angry chant, and the staff actually had to call the police to handle the situation.
The myBurbank News Twitter account reported it as an "uprising," which seems like an oddly fitting word choice considering it's related to Star Wars.
One Twitter user that was presumably on-site observed there was "screaming from both sides" after the police showed up and others remarked that the theater staff was just plain rude about the whole incident.
The thing is, most of the videos and other information posted on social media popped up around 1:30 a.m. Eastern, which means their screening probably started at 10 p.m.
If these people were really dedicated fans, then why weren't they at the 7 p.m. screening that went off without a hitch?
For a massive premiere like The Last Jedi fan eagerness and theater staff anxiety were presumably both at their peak. Should fans have kept their cool? Probably. Should the staff just have broken policy to restart the movie and dissolve the situation? Probably.
But also, please stop throwing tantrums, whichever side of the Force you are on.
Correction: The incident did not occur at an IMAX theater, as an earlier version of this article stated. Inverse regrets the error.