Ryan Shazier Begins Rehab 10 Days After Spinal Injury, Says Hospital 
Shazier has started physical rehabilitation.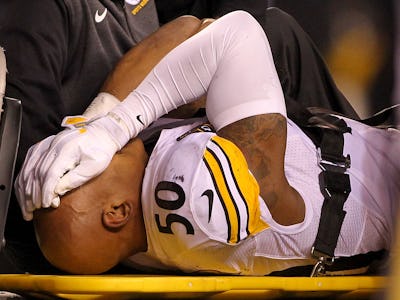 Getty Images / John Grieshop
Pittsburgh Steelers player Ryan Shazier remains at University of Pittsburgh Medical Center 10 days after suffering from a dramatic injury during a Monday night football game on December 4.
The hospital released the below statement on Thursday afternoon:
Ryan Shazier remains hospitalized at UPMC recovering from the spinal stabilization surgery performed last week by UPMC neurosurgeons and Steelers team physicians Drs. David Okonkwo and Joseph Maroon. Mr. Shazier has started physical rehabilitation as part of his recovery process. To respect the privacy of UPMC patients, no additional information is available at this time. We will provide future updates as appropriate.
In the first quarter of that December 4 Steelers-Bengals game, Shazier, a 25-year-old inside linebacker, dropped to the ground in a contorted twist in the middle of a tackle attempt. As the whistle blew, it was clear he hadn't suffered an average football injury. Hunched on his side with his left leg strewn unnaturally over his right, he attempted to flip onto his back, grasping at his lower spine and waist. Shazier was immediately carted off the field and rushed to the University of Cincinnati Medical Center.
An official statement posted to Twitter by Steelers general manager Kevin Colbert the morning after the game didn't elaborate on the nature of Shazier's injury, but prior to its release, there was some speculation that he had suffered a spinal contusion. An official prognosis hasn't been released, but it appeared to be a severe back injury.
According to the American Association of Neurological Surgeons, spinal contusions are especially common among NFL players. It's the same injury that Dallas Cowboys linebacker DeVonte Holloman suffered in 2013 and that New York Giants linebacker Jameel McClain experienced in 2012. Both Holloman and McClain have since retired from football.
The psychological recovery could last longer than the physical recovery, say sports scientists. Psychological recovery is an integral part of treatment for injured players, whether or not they'll ever return to the field. That's because players tend to respond to physical injury with a range of negative emotions and behaviors, which the NCAA's Sport Science Institute says includes sadness, isolation, irritation, lack of motivation, anger, frustration, changes in appetite, sleep disturbance, and disengagement. These, in turn, "can trigger or unmask serious mental health issues such as depression, anxiety, disordered eating, and substance use or abuse" — all of which could significantly hamper a player's physical recovery.