Ryan Shazier's "Spinal Contusion" Is an Extremely Dangerous Bruise
Fortunately, recovery is possible.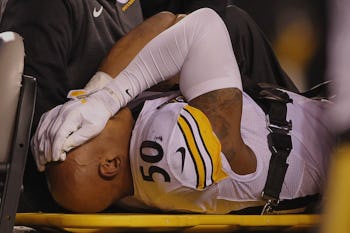 Getty Images / John Grieshop
Just minutes into the first quarter of Monday night's Steelers-Bengals game, Pittsburgh's inside linebacker, Ryan Shazier, dropped to the ground in a contorted twist in the middle of a tackle attempt. As the whistle blew, it was clear he hadn't suffered an average football injury. Hunched on his side with his left leg strewn unnaturally over his right, he attempted to flip onto his back, grasping at his lower spine and waist. Shazier was immediately carted off the field and rushed to the University of Cincinnati Medical Center.
An official statement posted to Twitter by Steelers general manager Kevin Colbert early on Tuesday morning didn't elaborate on the nature of Shazier's injury, but prior to its release, some speculated that he had suffered a spinal contusion.
According to the American Association of Neurological Surgeons (AANS), spinal contusions are especially common among NFL players. It's the same injury that Dallas Cowboys linebacker DeVonte Holloman suffered in 2013 and that New York Giants linebacker Jameel McClain experienced in 2012. Both Holloman and McClain have since retired from football.
"Steelers told Ryan Shazier has a spinal contusion and that some swelling is involved," reported Aditi Kinkhabwala, a reporter for the NFL Network. "Mike Tomlin and Kevin Colbert took a police escort to hospital."
The term "contusion" is medical parlance for a bruise — what happens when the capillaries under the skin break, causing blood to spill out and swelling to build. While most bruises may seem minor, they can be quite dangerous when they happen close to the spinal cord, the neurological highway that runs from the brain to the rest of the body. The flood of blood under the skin causes serious swelling, which can incapacitate any nerves in the area through intense squeezing or by cutting off their blood supply.
Depending on where the trauma occurs, "the spinal cord's ability to send and receive messages from the brain to the body's systems that control sensory, motor and autonomic function below the level of injury" could be jeopardized, according to the AANS.
Common symptoms include "numbness, tingling, electric shock-like sensations and burning in the extremities."
Some have speculated that Shazier doesn't have a contusion but a concussion, a condition more often associated with injuries to the head. But, as the Cleveland Clinic states, spinal concussions do occur, especially in NFL players. The official term for spinal concussions, the clinic notes, is cervical cord neurapraxia (CCN):
Most cases of CCN occur on the football field and result from severe head collisions where a player's neck is either compressed or bent far backward or forward with great force. Players in positions that involve high-speed collisions and open-field tackling, like free safety, are most commonly affected.
CCN involves a transient injury to the spinal cord that causes brief disturbance of sensation and/or the ability to move. Symptoms can include numbness and tingling in the hands or feet as well as weakness or even brief complete paralysis. Affected areas can range from a single arm or leg to all four limbs. Episodes last less than 24 hours and often for just a few seconds, after which the individual returns to how he was before the injury.
Despite the seriousness of these symptoms, it is true that, as a team source told Steelers reporter Gerry Dulac on Tuesday, it's "better than what it could have been." The worst-case scenario for any spinal injury is that the spinal cord itself — the rope of neurons carrying messages from the brain to the rest of the body — gets fully ripped apart, causing paralysis below the injury.
Immediately after the Steelers-Bengals game ended in a Pittsburgh win, ESPN's Michele Steele confirmed that Shazier's lower body had been limp when he left the field. The latest updates on his injury, fortunately, suggest that Shazier is doing better and regaining motion. Movement returns gradually as people recover from spinal injuries, so the full extent of Shazier's injury will become clear in the next few days.