Looking Ahead to 'Mr. Robot' Season 4 After Season 3 Finale Twist
Why 'Mr. Robot' referenced 'Superman.'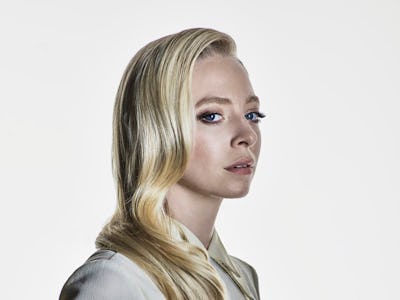 USA Network
Funny is the last word to describe Mr. Robot, but it is amusing that the USA hacker thriller did a Star Wars-style twist the same week The Last Jedi is headed for theaters. In the Season 3 finale, "Eps3.9_shutdown-r," the fallout of the attacks on E Corp by Whiterose comes to a head as one major character, Angela (Portia Doubleday) learns a shocking truth about her family. How will that affect Season 4? Showrunner and creator Sam Esmail promises it will.
Spoilers for Mr. Robot are ahead.
Ever wondered why Philip Price, the soft-bodied CEO of E Corp (Michael Cristofer), seemed so fond of Angela? In the wake of the current discourse surrounding sexual harassment, it was easy to assume the worst. But Mr. Robot flipped expectations on its heads.
Angela, who has been colluding with Whiterose (BD Wong) and his shady army of hackers to exact revenge on E Corp for the murder of her family, learns the truth about Philip Price: He is her father. ("Nooooooooo!")
But that's not all. Elliot, while talking to Darlene, learned that his harrowing memory of being pushed out the window by his father (Christian Slater) isn't what he remembered. Turns out, Elliot was a troublesome kid, and being pushed out was some kind of accident. This particular revelation shakes Elliot to the core, realizing that maybe all he had built up all along wasn't what he thought it was. In fact, the movie makes use of 1978's Superman — where the Man of Steel flies around the Earth to reverse time and save Lois Lane — to reference how much Elliot wants to undo the 5/9 hack.
Still, Elliot is a hacktivist, and to the elites he swears vengeance. After combating Mr. Robot all season, the "two" of them (because they're just one person, see) bury the hatchet and swear to work together to finally take down Whiterose and E Corp, once and for all. Unfortunately, Angela may have joined the Dark Side, which may lead them to come to blows in Season 4. Mr. Robot may be a modern show about bitcoins and encryption, but at the end of the day, it's a classic Greek epic with the melodrama of a DC superhero comic.
"The thing about that revelation is that … it all started with broken family ties," said creator Sam Esmail in an interview about the Season 3 finale with Deadline. The creator says that — kind of like Star Wars — the whole world is affected because of broken family relationships. "We planned this very early on; at the end of the first season Price takes Angela in."
Is war coming to Mr. Robot next season? That's the plausible scenario. E Corp is kind of in ruins, literally and figuratively, while the tippy top one percent still hold power behind the scenes. Our heroes are learning truths that are rocking them to their very foundation, and the cognitive dissonance of learning that everything is not as they seem will certainly have deep ramifications when the show returns. There's just no hacking out of this one for Elliot and Angela. As Esmail says about Season 4, the show will now be about "Integration."
Mr. Robot will return for Season 4. An official premiere date has not been announced but is expected in Fall of 2018.
Soon, we could delete memories just like in Westworld. Check out this video to find out how.