California's 230,000-Acre Thomas Fire Is a Unique Public Health Challenge
Wearing masks just won't cut it.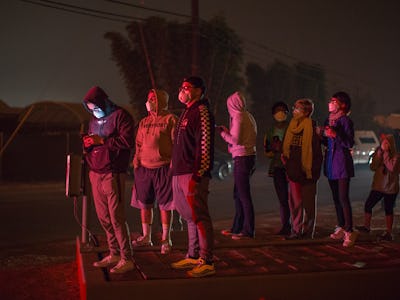 Getty Images / David McNew
California's raging, 230,000-acre Thomas Fire continued to devour hills and vineyards this weekend, sending dense mushroom clouds of acrid smoke into the air. Weak winds and a scarcity of rain are making it easier for the thick smoke and ash to linger, especially in low-lying valleys, and residents are struggling to breathe.
With air quality index readings reaching as high as 175 in places like Santa Barbara on Monday — for comparison, Beijing's average is over 100 — simply covering your face with a bandana or scarf is probably not going to keep you safe. According to the United States Environmental Protection Agency, a "good" AQI should be between 0 and 51.
The fires are an especially potent threat because they are releasing especially high levels of PM 2.5 — the tiny particles that pose the greatest threat to human health. The EPA hasn't reported on current levels, but in October, when the wildfires began, it was estimated that 10,000 tons of PM2.5 — the amount normally emitted by California cars over the course of an entire year — had already been released. With a width of less than 2.5 microns, these extremely fine particles are 30 times smaller than a width of a human hair. As such, they can easily slip through the lungs and into the bloodstream, where they can exacerbate asthma, emphysema, or even chronic obstructive pulmonary disease.
In places like Beijing and New Delhi, where PM 2.5 levels frequently reach threatening levels, filtration masks are common, though it's a mistake to think that all masks are equally protective. Phil Moyer, an air quality specialist with the Ventura County Air Pollution Control District, said in an interview with the LA Times that only N-95 and P100 respirators — especially tight-fitting masks designed to filter out fine matter in industrial settings — are actually protective.
Officials in Santa Barbara have been distributing N-95 masks to residents, though the effects of such efforts are limited at best. The LA Times reports that many people are still walking around outside because they simply aren't aware of how important it is to wear a mask or because they don't have access to them.
Complicating matters further is the fact that the wildfires are turning entire buildings into breathable dust — together with all the toxic chemicals used to construct them. In 2007, a United States Geological Survey study on the ash left behind by previous California wildfires showed that it contained heavy metals like lead, copper, and chromium, which are known to be toxic to humans at high enough concentrations. Another study on ash left over from the 2007 California wildfires, published in Epidemiology, additionally showed the presence of cadmium and arsenic, as well as pesticides and herbicides.
In an interview with the New York Times in October, Napa County's chief public health officer Dr. Karen Relucio summed up how these chemicals become a threat:
"Just think of all the hazardous materials in your house," she said in an interview. "Your chemicals, your pesticides, propane, gasoline, plastic and paint — it all burns down into the ash. It concentrates in the ash, and it's toxic," said Dr. Relucio, who declared a public emergency over the hazardous waste from the fires, as have at least two other counties.
The best that people in California can do to protect themselves is to limit their exposure to the fallout from the fires. For the majority of people who can't temporarily relocate to areas with cleaner air, the best possible way to do so is to stay inside places where the air is filtered, whether that's at home or at public places like malls and libraries, and to avoid opening windows and going outside as much as possible. When indoors, it's crucial to prevent outside air from blowing inside, so it's recommended that people set their air conditioners to recirculate inside air.
But if the smoke gets to be too much — as it already has for dozens of people — multiple hospitals in the affected region have set up command centers and hotlines to deal with health emergencies.