These 16 Shocking Images Reveal the Extent of the California Wildfire
The fire has cut the power for over 280,000 people.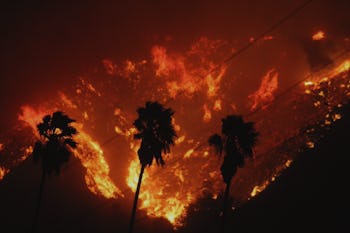 VCFD_PIO/Twitter
A wildfire has swept through Southern California, searing 31,000 acres of land and causing thousands to evacuate their homes. Fire officials battled with the blaze late Monday and early Tuesday morning, as a combination of low humidity and wind speeds of over 50 miles per hour caused the "Thomas Fire" to spread at an alarming rate.
"The prospects for containment are not good," Ventura County Fire Chief Mark Lorenzen said at a news conference overnight. "As far as getting ahead of the fire, that's what we're doing ahead right now, but it's in defence of structures and property right now, not in actually putting the fire out."
The Washington Post reports that at least one person has died. Over 27,000 people in Santa Paula and Ventura have been told to evacuate, with more than 7,500 homes under mandatory evacuation. In the Santa Barbara and Ventura counties, over 260,000 people are currently without power due to failures with transmission lines, and around 150 structures have been hit by the flames.
Four helicopters were sent to tackle the fire, but they were then called back after it was deemed unsafe to fly. Around 500 firefighters have been called to the scene, but the fire is expected to spread further before it's over. Officials expect that the fire will ultimately cover over 50,000 acres of land.
On social media, residents living by the blaze shared shocking images of the fire as it spread through the counties:
It's not the first fire California has experienced this year. Wildfires spread through California's wine country just two months ago, with 20,000 forced to evacuate to avoid 17 ongoing fires that destroyed over 115,000 acres of land. The destruction of wineries lead to fears that the economic impact would push far further than initially expected.