California Fires: New Photos and Videos Show Terrying Destruction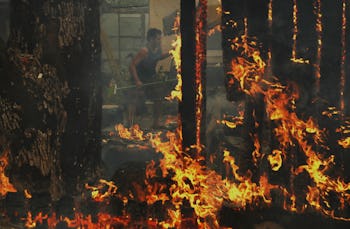 Getty Images / Justin Sullivan
Wildfires in California are common, but not to the extent of the deadly blazes currently ripping through the state's wine country
State fire officials summarized it this way: more than 115,000 acres are already destroyed. Eleven people have died. Around 20,000 have been forced to evacuate. And the damage isn't even over — 17 major fires were still active as of Tuesday morning, the National Wildfire Coordinating Group announced. The largest fires are in the Klamath National Forest, where fires in two areas (the Eclipse Complex and the Salmon August Complex) covered a combined area of more than 144,000 acres.
Scenes out of California are apocalyptic. Photos from Santa Rosa, one of the cities at the center of the damage, are harrowing:
This video of the Tubbs Fire, which is ravaging neighborhoods in Santa Rosa, shows blocks of buildings in ruins.
Much of the vineyards and farms in California's prestigious wine country were destroyed. This photo of Napa's Signorello Estate shows some of the damage:
The smoke that permeates the air, mixed with the sunlight, has caused the sky to take on bright and terrifying colors. In Yuba City, the smoke in the air caused a bright red sunrise Monday:
Using satellite imagery that can detect hot spots, the National Oceanic and Atmospheric Administration posted this video from Monday of the California fires.
Photos captured a resident in Glen Ellen trying to salvage any belongings he could as fire incapsulated his home.
An Instagram user posted a view over a California city of lit up with fire: