Elon Musk Slammed as 'Petulant' by Jeremy Clarkson Over Tesla Dispute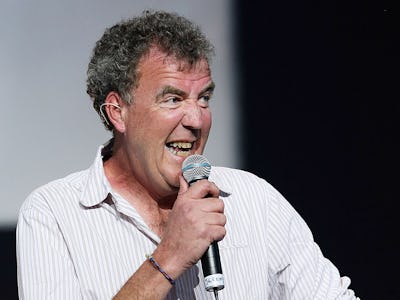 Getty Images / Hannah Peters
Jeremy Clarkson is not a big fan of Elon Musk. The host of the Grand Tour Amazon car show had some choice words for the Tesla CEO in an interview published Monday, where he criticized Musk's handling of a libel lawsuit that focused on the battery range of a Tesla Roadster.
"I actually reviewed the new Tesla in the new show and in many ways, it's tremendous," Clarkson told The Daily Beast. "I've got no ax to grind. He's the only one who ever behaved in such a petulant way—most industry bosses are a lot more grown up."
Tesla sued the BBC in 2011, after Clarkson's previous show Top Gear claimed in 2008 that the company's electric car only ran for 55 miles on a single charge, among other misrepresentations. The show featured a scene where a four-man crew pushed the car back to the hangar after running out of juice during a track run. Tesla claims the car can run for over 200 miles.
In a statement on its website, the company said:
The breakdowns were staged and the statements are untrue. Yet the programme's lies are repeatedly and consistently re-broadcast to hundreds of millions of viewers worldwide on BBC television and web sites, and on other TV channels via syndication; the show is available on the internet, and is for sale on Top Gear DVD's around the world.
The company said that the episode lost the sale of 20 electric vehicles, caused around $171,000 in damage and undermined investor confidence. The saga ended in March 2013 after Tesla's appeal was dismissed, with court judge Lord Justice Moore-Bick describing the case for special damages as "very thin on its own terms."
Musk wasn't quite done, though.
"Clarkson's show is much more about entertainment than about truth," Musk told BBC Newsnight in October of that year. "His two pet peeves are American cars, and electric cars, and we're an American electric car, so we're in the worst possible situation for someone like Clarkson."
In that time, the pair have gone on to find more success of their own. Tesla has gone from being worth around $4 billion in January 2013 to today's market capitalization of $53 billion. Clarkson moved from the BBC to Amazon, and the opening of the first episode of The Grand Tour was reportedly the most expensive in history at a cost of $3.1 million.
Clarkson still hasn't forgotten his issues with Tesla, though.
"He sued me and lost, he appealed and lost. You go online and you read that we 'made it up,' that we 'faked it'…We didn't," Clarkson said in Monday's interview. "You see, if anybody is going to get sued, I mean you can't say that sort of thing. I could say all sorts of things about Musk but I won't. Musk doesn't like losing. Unfortunately he did twice…He's just got sour grapes."