Amazon Just Debuted 'The Grand Tour,' and 'Top Gear' Fans Will Love It
Initial reviews praise the new show's high production values.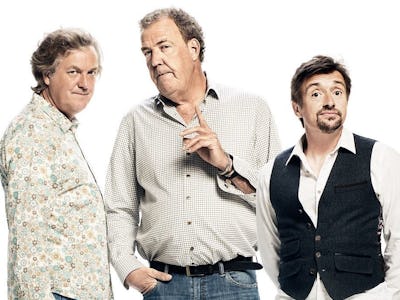 The Grand Tour/Twitter
Jeremy Clarkson, Richard Hammond and James May are back. The first episode of The Grand Tour made its exclusive debut on Amazon Video on Friday, and initial reactions are overwhelmingly positive. This is the trio's first outing since leaving BBC's Top Gear in March 2015 and expectations were high for the new show to recapture the same spirit of adventure fans had grown to love — driving expensive cars in outlandish situations, and cracking jokes.
Hype around The Grand Tour has been unparalleled. Amazon reportedly paid an incredible sum of money to get the trio on their streaming service: the opening scene alone, with 150 cars and six jet planes in the Californian desert, is reportedly the most expensive opening scene in a TV show ever, costing £2.5 million ($3.1 million). The money seems to have paid off, with incredibly high production values giving the show a near cinema-quality experience.
"The scale of the production, the quality of the cameras, the epic, sweeping shots and the pastiches of old movies - it seemed the show was aimed at the big screen, not the telly," said the BBC in its review.
"The first episode - 'The Holy Trinity' - feels like watching a Hollywood blockbuster, crossed with an hour-long car advert as Clarkson, Richard Hammond, and James May take us through the world's top hypercars," said The Express.
"The best gag featured a parade of celebs trying, and failing, to join the hosts in their tent," said The Telegraph. "Jeremy Renner jumped out of a plane, but failed to open his parachute, Armie Hammer was poisoned by a rattlesnake."
The show, free from its British broadcaster origins, has taken on a more international tone, something picked up by many reviewers. Any pretense of reservedness is out, as is the dreary, English countryside studio setting, replaced by a traveling tent that pitches up around the world. Banter with American audiences gives the show a unique dimension, while changes to the format avoid BBC legal scrutiny.
The latest season of Top Gear, starring Matt LeBlanc and Chris Evans, left a bitter taste in the mouth of some viewers, with Evans's performance criticized by reviewers. Evans quit the show after presenting for just one season. Fans looking to reclaim the Top Gear magic would do well to watch The Grand Tour.
"You can pour something into a different container, but it still tastes the same. And, like it or not, this tastes of Clarkson, Hammond and May," said The Guardian. "Fans of old Top Gear are going to be happy."
The Grand Tour is available to Amazon Prime customers, with a new episode coming out weekly for the next 12 weeks, ending on February 3.