9 Schwifty 'Rick and Morty' Gifts for the Morty in Your Life
Happy holidays you little — burp — piece of shit.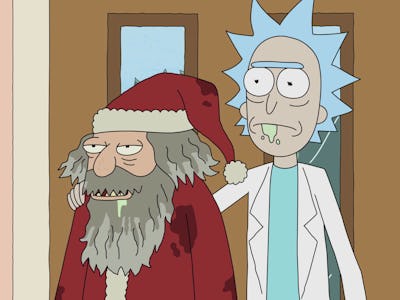 Adult Swim
The holidays are nearly upon us, regardless of which dimension you're in, so you might as well start thinking about what you're going to buy for your Morty. Everybody knows that you have to keep your Morty at least a little bit happy, because otherwise it might impede your work.
Does your Morty like board games? Great. Is he a child that loves coloring? We've got you covered there too. Does he want a really cool t-shirt that's not just a boring-ass yellow? Well then you should get him something a little bit cooler, probably with cool characters doing awesome things. Maybe something from Adult Swim's hit show Rick and Morty?
Included in this list are TK items from the across the galaxy — but mostly just on Amazon — that will make the Rick and Morty superfan in your life happy this holiday season. At the very least, it'll make your Morty better.
We don't need to explain to you what Monopoly is because you're probably familiar with the friendship-ruining capitalistic conquest of buying property and bankrupting your friends. The official Rick and Morty version is way cooler than the original because there are no creepy top hats.
Monopoly Rick & Morty Board Game, available at Amazon, $32.30
Speaking of classic games, if you're looking for something on the somewhat less expensive side, you can get a traditional deck of playing cards outfitted with variations on characters from Rick and Morty. Yes, Jerry is a King which makes absolutely no sense, but they had to put somebody you'd recognize on there, right?
Playing Cards: Rick & Morty Cards, available at Amazon, $9.97
Published by Titan Books, the official Rick and Morty coloring book features scenes from the show and new creations just for the book. Knowing your Morty, he'll probably want to stick to the canonical colors from the series, but at least this gives him the option to get a little bit more creative. Best to pair this one with some crayons or colored pencils. Better yet? Don't! You'll drive them crazy.
Rick and Morty Official Coloring Book, available at Amazon, $11.19
Especially if the person you're buying gifts for likes to cosplay at conventions or dress up as Rick for something like Halloween, they'll love this official replica of the Portal Gun from Rick and Morty, complete with the mysterious power source in the chamber on top of the gun.
Funko Toy: Rick & Morty-Portal Gun Toy, available at Amazon, $24.95
Does the Rick and Morty fan in your life just love Tiny Rick? Of course they do! Tiny Rick is the best! Why not get them this cool shirt.
"I'm Tiny Riiiiiick!"
Rick and Morty Tiny Rick Mens Adult T-shirt, available at Amazon, $20.95-24.95
Are you looking for a gift that's both a public admission of Rick and Morty fanship that's also a little bit more sophisticated? Then look no further than this four-piece canvas print that would look good in any classy living room in the multiverse.
Rick and Morty Galaxy Canvas Set, available at Etsy, $64.99
One of Season 3's most enduring jokes came when Rick proudly proclaimed, "I turned myself into a pickle, Morty!"
That makes this the perfect in-joke that proves you're an astute fan with an elevated sense of humor.
Rick and Morty Pickle Rick Parody Mug, available at Etsy, $14.99
"Nighthawks" (1942) is a pretty decent painting by Edward Hopper that you've probably seen about a million times before. But this? This is part of the "Series Arc" art project by Steven Payco that immortalizes Rick Sanchez's obsession with Szechuan sauce by placing it in classic paintings like this one.
Could there be a better Rick and Morty painting than this? Half the people that would see it would probably just think it was the original anyway.
Rick & Morty Nighthawks Painting, available at Etsy, $21.25
One of the best scenes in all of Rick and Morty happens after Summer is confronted with the meaninglessness of existence. When Morty consoles her, he delivers this poignant monologue about how because nothing matters, we essentially shouldn't care so much. So why not just watch TV?
This stylish t-shirt includes the whole line with a colorful, cool design.
Unisex T-shirt, available at Redbubble, $20.31