As Bitcoin Storms Past $15,000, These Maps Reveal Where It's Most Popular
Bitcoin is setting the world alight.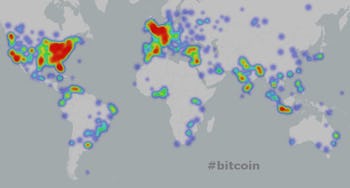 BeProductive
Bitcoin is on fire. Just hours after the cryptocurrency reached an all-time high of $12,000, it surged on Wednesday to $14,000, before breaking past the $15,000 mark on Thursday. Now, a series of maps have revealed just where all the cryptocurrency hype is coming from.
The maps, produced by tech business news website BeProductive, use software with direct access to geotagged Twitter data to work out which parts of the world are talking about which cryptocurrencies the most. While Bitcoin is popular in the United States and Europe, there's a whole world of other coins out there that are taking the world by storm.
"What's really cool is there is a story to be told in every map, for instance, in the Monero map, the "hot spot" is in Central America and you don't really see that with any of the other cryptocurrencies," the company says. "Also look how the Japan, South Korea area lights up for Ripple."
The release comes as Bitcoin edged past $15,200 on the Coinbase exchange Thursday. While different exchanges show different prices, it's clear the cryptocurrency is still undergoing a rapid rise in value. Whether it can sustain this momentum remains to be seen, but one thing is clear: Bitcoin is making big, big waves.
Here are the cryptocurrency chatter maps:
Bitcoin
The original cryptocurrency, outlined by the mysterious "Satoshi Nakamoto" back in 2008.
A 2015 currency, focused on using Bitcoin technology for application development.
Business-focused, this turns company resources into tradeable commodities on an open market.
This one is geared at enterprises for global payments.
Dash uses a consensus-based system for future development, and aims to be a currency so simple "your Grandma would use them."
Very similar to Bitcoin in a lot of ways, but with changes that are expected to make transactions faster.
A privacy-focused currency specifically designed to hide transactions, unlike Bitcoin where it is public record.