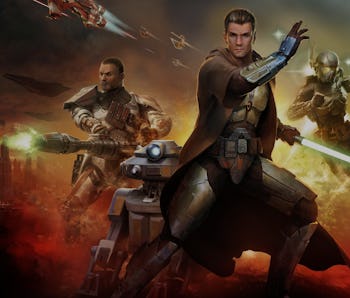 Gaming
Next 'Star Wars' Trilogy Won't Be the One Hardcore Fans Want
Don't expect a journey to the Old Republic from Rian Johnson.
BioWare
Hardcore Star Wars fans hoping that Rian Johnson's new trilogy would give us a live-action trip back to the Old Republic will be woefully disappointed to learn that The Last Jedi director says he wants to tell completely "new stories." So say goodbye to your live-action Darth Revan fantasies.
In an interview published Tuesday with Mashable, Johnson made some clarifying statements about his upcoming trilogy that confirm it won't be set in the Old Republic.
Johnson acknowledged that he himself "loved" Knights of the Old Republic, even adding, "I understand it, the instinct to automatically go to something that you know and love, that you've already seen." But he's more interested in something else: "To me, what's really fun is the notion of what new stuff are we gonna see, what new stories can we tell?"
Before now, the official description for this new trilogy was open-ended enough that it might focus on the Old Republic, but as it turns out, that was just wishful thinking.
In November, Lucasfilm announced that Johnson would helm a new trilogy unrelated to what they called the "episodic Skywalker saga." The promise was straightforward enough: "Johnson will introduce new characters from a corner of the galaxy that Star Wars lore has never before explored."
At the time, that theoretically meant Johnson's trilogy would not rehash the story of Darth Revan, which was already explored in the Knights of the Old Republic video games and later the MMO for Old Republic.
Fans hoped Johnson's films might return to this time period thousands of years before the original trilogy. It's an era when the ancient Sith were just as powerful as the huge Jedi Order, and the large-scale warfare felt even more world-ending than it does in the movies.
But alas, we're still left to wonder where Johnson's new stories might take us.
Star Wars: The Last Jedi will be released in theaters December 15, and there are no planned release dates for Johnson's other trilogy.