This AI Tested Elon Musk's Writing to See if He's Bitcoin's Mystery Creator
Satoshi Nakamoto has never revealed their identity.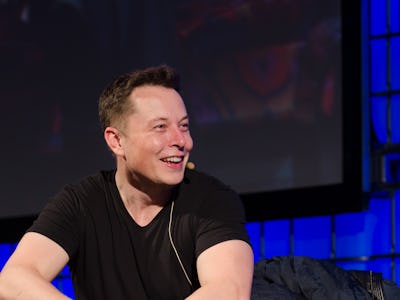 Flickr / Heisenberg Media
Elon Musk did not invent Bitcoin… or did he?!
The tech entrepreneur behind Tesla and SpaceX denied it himself last week after a former SpaceX intern rekindled the longstanding rumor. But some have argued that denying it is exactly the sort of thing the person behind the "Satoshi Nakamoto" pseudonym would do when confronted. Now, more concrete proof has arrived from an artificial intelligence that compared the two's writing styles.
Emma, an online A.I. speech analyzer from the developers of that plagiarism tool Unicheck, started off by comparing a text from each of the authors.
"We don't know for sure who Satoshi Nakamoto really is," the team behind Unicheck tells Inverse in an email. "But Emma is a useful instrument for checking out rumors and can help in the investigation. Anyone can just take some writing samples of a person, who is supposed to be Satoshi, and compare it to Nakamoto's writing identity."
For Musk, the team used "Making Humans a Multi-Planetary Species," the paper that he delivered in Guadalajara, Mexico, last year outlining how humanity will explore the stars. For Nakamoto, the team used the 2009 white paper that introduced the cryptocurrency to the world.
Emma uses a self-learning algorithm that processes natural language and stylometry techniques to work out an author's unique style. It then compares two texts based on 50 parameters that define a user's writing technique. In-house tests show Emma is around 85 percent accurate, the highest result achieved by engineers.
Unfortunately, the results showed it's not him.
"In all of the cases, our A.I. didn't see any common features in their writing identities that confirms — they are two different persons," the team tells Inverse.
Watch Emma in action comparing the texts below.
The debate started when Sahil Gupta, a former intern at SpaceX, published a Medium post last month that pointed out a number of similarities between the two people, namely a deep understanding of cryptography and a mastery of the C++ programming language. Nakamoto's identity has been the subject of intense scrutiny since Bitcoin's launch nine years ago, so the mere suggestion that it could be Musk set the internet ablaze.
But time and time again, the results from Emma's came back negative. The company compared Nakamoto's e-mail lists and forum posts to see if they came back with a positive result. In every case, the results showed Musk and Nakamoto are different people.
Musk may be suspicious of super-advanced artificial intelligence taking over the world, but in this case, he's probably happy to let it slide.