Power Rangers' Next Epic Event Is All-Out War Against an Evil White Ranger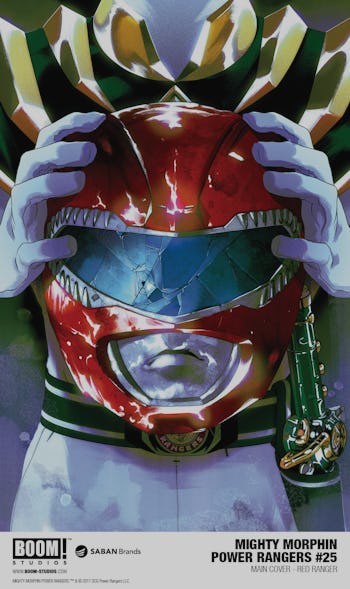 BOOM! Studios
In case you're not feeling old yet, the cult-classic Mighty Morphin Power Rangers TV series will be celebrating its 25th anniversary next year. To commemorate the milestone, the actually-great Power Rangers comics from BOOM! Studios will have its first epic crossover event in 2018. Beginning in March, Power Rangers: Shattered Grid will feature every Power Rangers team ever in a war against Lord Drakkon, the evil White Ranger from an alternate timeline.
On Monday afternoon, BOOM! Studios finally unveiled Power Rangers: Shattered Grid, which it initially teased at New York Comic Con in October. The series will not only be a crossover of different teams from the show, but also a crossover between Mighty Morphin Power Rangers by Kyle Higgins, the chief writer on Shattered Grid, and Go Go Power Rangers from Ryan Parrott. Shattered Grid will begin in issue #25 of Higgins's series, while Parrott's Go Go will be included in issue #8 in April.
Described as both a "celebration" of Power Rangers and the "largest story I've ever told" by writer Kyle Higgins, who is also known for DC's Nightwing, Shattered Grid will see Lord Drakkon's ambitious plans to dominate in motion. "Lord Drakkon's plan is so much bigger than our Rangers, our world, and even our universe," Higgins said in a statement. "The Grid is shattering, every Power Ranger in all of existence is at risk, and it's going to take more than just the Mighty Morphin team to stand against Drakkon's armies."
The titular "Grid" Higgins refers to is the Morphing Grid. Basically, it's "The Force" for the Power Rangers universe. It's a spiritual, cosmic energy that all Power Rangers tap into to become superheroes. For a long time, even the show has had a hard time explaining in plain terms how the Morphing Grid works, but in Higgins's new series, the Morphing Grid is, well, shattered.
"Over the last two years, I've been weaving threads in the pages of Mighty Morphin Power Rangers, all leading to the 25th anniversary of the franchise," said Higgins, who also previously spoke to Inverse about Shattered Grid prior to its Monday reveal.
"This isn't Civil War. This isn't Rangers against Rangers," Higgins told Inverse at New York Comic Con. "This is Lord Drakkon and his forces and their very ambitious desires. What the battlefronts are like, where and when, is very significant and unique. When you learn exactly what he wants, you'll understand what the potential of this event is shaping up to be."
In a wraparound variant cover from Deadpool artist Scott Koblish, the Mighty Morphin Power Rangers are seen karate-chopping with almost every other Power Ranger team in history. There are even obscure, Z-list teams, like the Cyborg Rangers from Power Rangers: Lightspeed Rescue and Lord Zedd's hilarious Dark Rangers.
Mighty Morphin Power Rangers #25, the first issue in Shattered Grid, will be released on March 21, 2018.
If you liked this article, check out this video of the most insane monsters in the Power Rangers universe.