The Force Is With These $30 Bluetooth Trackers
Let Chewbacca track your lost keys!
by Inverse Loot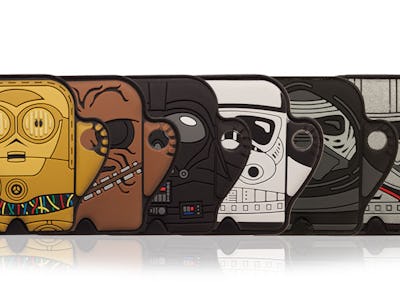 stacksocial
It happens to the best of us: You misplace your keys, phone, or wallet, and immediately spiral into panic mode. Have no fear, Foundmi Star Wars Bluetooth Tracker Sets are here.
Using bluetooth technology (and, of course, the Force), these tracking tags keep tabs on just about anything. Keys, laptops, bags, bikes, you name it, these bad boys can easily attach and ensure anything important can be found quickly.
By downloading the app and pairing a tracker with your phone, you can quickly locate your valuables by using the alert function. If the item is within bluetooth range, the tracker will sound off a loud alarm and tell you exactly where it is. If it isn't, the app uses Location Services to provide the tracker's last recorded location. And if voice recognition is your thing, Foundmi can also be integrated with Alexa so you can easily locate the tracker using your voice.
It works in reverse, too! If it so happens that your phone is the item that is missing, all you have to do is double tap the tracker, and it will swiftly send a signal to the device to make it ring. On top of being a handy collectible accessory, it also works as a remote shutter for your phone's camera.
The Foundmi sets come with two bluetooth trackers in the form of iconic Star Wars characters. Appoint Darth Vader and a Storm Trooper as security guards for your gadgets! Let Kylo Ren and Captain Phasma be in charge of your keys! Make C-3PO and Chewbacca keep tabs on your prized possessions!
These tracker sets typically cost $50, but Inverse readers can snag one now for only $29.99.