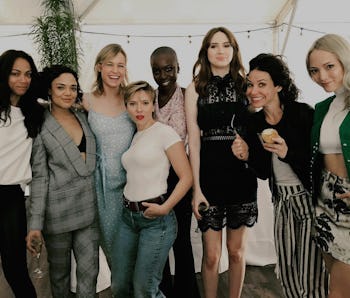 Entertainment
Marvel's Lady Liberators Assemble For a Photo on Twitter
Twitter.com/MarvelStudios
Marvel may not yet have its female superhero movie, with Brie Larson's Captain Marvel set for March 2019, but the informally-named "Lady Liberators" have finally united as one — on Twitter, at least. In a new photo that went viral among Marvel fans, the majority of the female superheroes from Marvel Studios gathered for a casual photo, and it was all done as a favor for someone's daughter.
On Monday afternoon, Craig Kyle, the co-writer of Thor: Ragnarok and creator of X-23 (who appeared this year in Logan) tweeted a photo he captured featuring most of the major Marvel actresses, including Zoe Saldana ("Gamora"), Tessa Thompson ("Valkyrie"), Brie Larson ("Captain Marvel"), Scarlett Johansson ("Black Widow"), Danai Gurira ("Okoye"), Karen Gillan ("Nebula"), Evangeline Lilly ("The Wasp"), and Pom Klementeiff ("Mantis").
Accompanying the photo, Kyle tweeted that he took the photo for his daughter but realized it was too cool not to share with everyone else. "I took this shot for my daughter and it's the coolest picture I've ever taken!" he wrote. Soon, the picture wound up on the official Marvel Studios account.
The cool thing about the photo isn't just seeing a bunch of Hollywood stars chill by the crafts table, which is what us normal ugly people would do. It's that the photo gives a glimpse at what that theoretical Lady Liberators movie would look like. During the promotion for Thor: Ragnarok, Tessa Thompson said she confronted Marvel Studios figurehead Kevin Feige about green lighting an all-female superhero movie. Feige said yes, but mainly perhaps out of fear since he was cornered by "every female hero we have standing there."
In Thompson's pitch, she called the theoretical film Lady Liberators, based on the female team that appeared in The Avengers #80 in 1970. Since the news came out, Marvel fans have unofficially rallied behind "Lady Liberators" as a concept, hoping Marvel is paying attention.
There's still no word on whether or not Lady Liberators will exist past fans' (and Tessa Thompson's) imaginations, but for now, this photo is giving everyone some semblance of hope.
Marvel's Avengers: Infinity War, which will have most of the Lady Liberators in action, will be released on May 4, 2018.