A Season 1 'Arrow' Character Revealed as Crossover Villain, Kind Of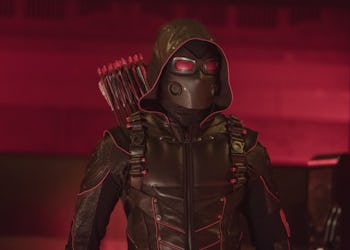 The CW
Never trust a Nazi. Right in the first minute of "Crisis On Earth-X Part 2," the Arrow entry into this year's massive Arrowverse crossover, the Prometheus of Earth-X unmasks himself, revealing an old face that fans haven't seen in years.
Spoilers for "Crisis on Earth-X" ahead.
At the end of "Part 1," in which Nazis from the alternate Earth-X crashed Barry and Iris's wedding, our heroes apprehended one of the super-powered Nazi generals: Prometheus of Earth-X. But as "Part 2" begins, it's not an Earth-X variant of Adrian Chase that's under the hood. It's Tommy Merlyn, with Colin Donnell making a surprise, however brief, return.
As "Tommy" tells Oliver (and by extension, the audience), the Third Reich may dominate Earth-X but Tommy and Oliver are still best friends who would die for each other. The "reunion" is packed with emotions left over from Season 1, which was so long ago that even Barry doesn't know who Tommy Merlyn is. At the end, our true Earth-1 Oliver shows vulnerability, earning mockery from Nazi Tommy, who kills himself with a cyanide pill. It was good while it lasted, sort of. (Since he's, you know, a Nazi.)
What a way to not only please fans, but also fulfill one of the most popular Arrow fan theories, that Tommy was really Prometheus in the main Arrowverse universe, which never came true.
Elsewhere, "Part 2" ups the ante in ways that already makes it a better event than last year's crossover, "Invasion!" Coherent storytelling be damned, this crossover is all about awesome superhero action and "Part 2" delivers. Bleak and dreary as the Earth-X invasion may be, it's still superheroes punching Nazis. And there's still time for jokes; Oliver complaining his lack of super speed compared to Barry and Kara will forever be a series highlight.
Along with other great moments like Oliver's Kryptonite arrow, the surprise (and delayed) appearance of Team Arrow to fight Earth-X Arrow, and Earth-X Kara and Oliver being married (to the chagrin of Twitter), "Crisis on Earth-X" is already the best crossover the Arrowverse has produced.
It's the subtle genius that makes it special. While there is a lot going on, at its heart "Part 2" is still an episode of Arrow. It's the Captain America: Civil War of the Arrowverse in that regard, as everything in "Part 2" goes back to Oliver Queen. And there's a clear emphasis on Earth-X Oliver as the primary villain for this year's crossover, even when the true mastermind has yet to be revealed and the big plan involves curing Earth-X Kara, who has been poisoned by over-exposure to solar radiation. (Sadly this couldn't be revealed in "Part 1," which barely registers as a Supergirl episode.)
Things look bleak for the Arrowverse before "Part 3," which airs tomorrow as an episode of The Flash before climaxing in "Part 4" with Legends of Tomorrow. The most important heroes have been left prisoners on Earth-X while S.T.A.R. Labs is under siege. There are maybe too many characters to keep track of, and too many characters who are still missing — where the hell are Ray, Zari, Nate, and Diggle? — but for now, "Part 2" has ensured that "Crisis on Earth-X" is more than just an annual gimmick. If the upward trajectory of these crossovers continues, there is no stopping these heroes from dominating for years.
One last thing: Shortly after the Earth-X Prometheus reveal, actor Stephen Amell told fans on Twitter that Donnell shot his part in less than day, and just after shooting an episode of Chicago Med. No wonder he's Prometheus, dude's got hustle.
Arrow normally airs on Thursdays at 9 p.m. Eastern on The CW. "Crisis on Earth-X" Parts 2 and 3 air tomorrow on The Flash and Legends of Tomorrow, beginning at 8 p.m. Eastern on The CW.