'Last Jedi' Director Heavily Implies Luke and Leia Won't See Each Other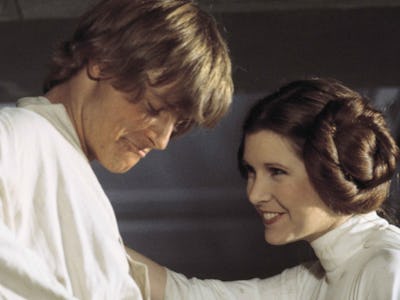 Lucasfilm
Most Star Wars movies require the audience to cry these days. In 2015, we all cried when Han Solo fell into that abyss. And then, in 2016, when the heroic actions of Jyn Erso and her merry band led them all to their dooms. But now, audiences might loose it for another reason in The Last Jedi. Beloved characters Luke Skywalker and Leia Organa might not actually meet up in the new film.
On Tuesday, Entertainment Weekly continued its Star Wars coverage with a new piece specifically about Luke and Leia. In it, the film's director, Rian Johnson comments on seeing Luke and Leia on the cover of the magazine. "It's nice seeing them on the cover though. Even if all we have is that." he said.
This, along with several other hints from both Johnson and Mark Hamill all, seems to suggest Luke and Leia won't actually see each other in the new film. Which, while totally depressing, would be oddly fitting considering their long history of being separated. But, what makes this possibility doubly hard to deal with is the simple fact that The Last Jedi ended up being the last time the two characters could have met on screen, at least while they are played by Mark Hamill and Carrie Fisher. The sad death of Carrie Fisher in 2016, means this will the the final appearance of Leia, even if Johnson and other Lucasfilm executives had plans for her in Episode IX or beyond.
For Leia's sake, we hope she at least gets to see her son, Kylo Ren. And if she doesn't get to see her brother, Star Wars fans will have each other's shoulders to cry into come December 15.
Read Next: WTF is Up With Bencio Del Toro's Character in 'The Last Jedi'?