A Less Annoying Fidget Spinner for Pent-Up Office Energy
Because fidget spinners are noisy and overrated.
by Inverse Loot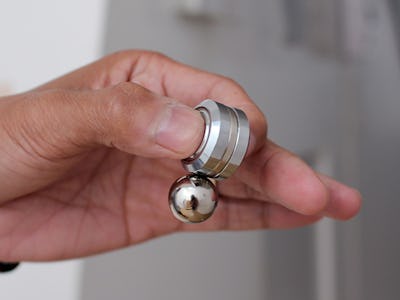 StackSocial
2017 is the year of fidget gizmos. They come in a variety of forms — cubes, pads, pens, and chain links, and of course, there's the infamous fidget spinner. What was incipiently a stress-relief tool intended for kids with autism and those suffering from ADHD and anxiety, has unfortunately become a trendy Instagram prop that everyone and their mother seems to own.
If you're someone who actually feels the urgency to dump off excess energy, fidget spinners can sure be of great help, but here's the thing: they can be distracting to everyone else within your vicinity. They emanate an incessant buzzing noise, making them a not-so-ideal plaything to use in the workplace.
Introducing the Orbiter Magnetic Fidget Toy. Unlike the fidget spinner, this one is more discreet, designed to roll smoothly and with minimal friction. Even better, its ergonomic curved shape supports hand comfort and extended usage, perfect for long nights at the office. It's also remarkably compact and can easily be lugged around everywhere.
Get a more gratifying and less distracting spin with the Orbiter Magnetic Fidget Toy, now only $16.99, which is 57 percent off the usual price.
Inverse may receive a portion of sales from the post above, which was created independently from Inverse's editorial and advertising team.