The Arrowverse Punches Nazis in "Crisis on Earth-X" Crossover Trailer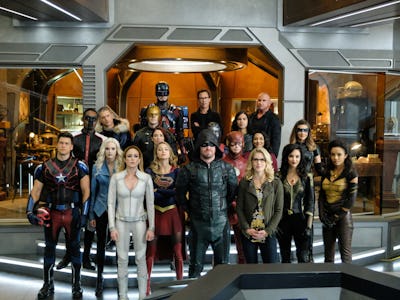 The CW
The heroes of DC's TV shows are ready to punch, kick, and laser-blast some Nazis. In the new extended trailer for the second annual four-show crossover between Arrow, The Flash, Supergirl, and DC's Legends of Tomorrow, a raiding party of DC superheroes go up against an army of Nazis from the dark, alternate Earth-X. Welcome to "Crisis on Earth-X."
In "Crisis on Earth-X," premiering November 27 on the CW, Barry Allen (Grant Gustin) tries to celebrate his wedding with Iris (Candice Patton), until the ceremony is crashed by Nazi soldiers. In the trailer, the heroes immediately spring into action, kicking off the next big crossover that may somehow manage to top last year's invasion by the Dominators.
In the trailer, the Green Arrow, White Canary, Supergirl, and The Flash lead their cohorts against Prometheus-X and Overgirl, superbeings from the Nazi-controlled Earth-X. Influenced by a number of comics, including Justice League of America, 52, Final Crisis, and The Multiversity, Earth-X is a world where the Nazis won World War II and superheroes are aligned with the world's most plausible threat to democracy.
The four-part episode, airing over two nights, will unite practically every masked avenger introduced in this interconnected universe. It's easier to say who isn't going to appear, which sadly there are a few. J'onn J'onzz, aka Martian Manhunter (David Harewood), seems MIA, while John Diggle, aka Spartan (David Ramsey) may be left out due to his debilitating tremors. Also missing is Guardian (Mechad Brooks), who hasn't actually suited up as his shielded vigilante in National City in some time.
Joining the fray this year is Chyler Leigh's Alex Danvers (Supergirl), Tala Ashle's Zari (Legends of Tomorrow), Juliana Harkavy's Black Canary (Arrow), a returning Wentworth Miller as the chaotic good "Citizen Cold" from Earth-X, Danielle Panabaker as Killer Frost (The Flash), and newcomer The Ray, played by Russell Tovey, who will also voice the character in the animated Freedom Fighters: The Ray on the CW Seed.
See the trailer below.
"Crisis on Earth-X" airs November 27 at 8 p.m. Eastern on The CW.