Your Guide to the DC TV Arrowverse, Before the Crossover
There's a lot of superheroes.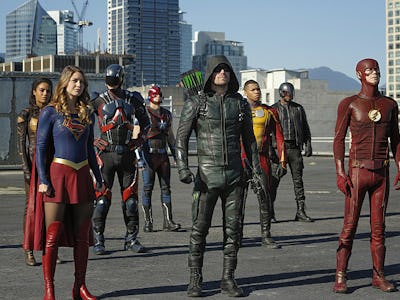 The CW
The Dominators are coming, and it's up the superheroes of the DC TV universe to stop them. But, do you know all of them?
While many DC fans are anticipating the major 4-part crossover between Supergirl, The Flash, Arrow, and DC's Legends of Tomorrow titled "Invasion!", there are just as many others who are daunted by it. "Invasion!" is unprecedented in scripted television, and the blockbuster event may be unwieldy and inaccessible to fans who are exclusive to only one or two shows. If you only watch Supergirl or only watch The Flash, fret not. One obsessive fan is here to save you.
Before the "Arrowverse" makes television history next week, starting with Supergirl on November 28, here's a handy guide to every show in the DC TV universe and how they connect to the other shows.
Arrow
The one that started it all, Arrow stars Stephen Amell as Oliver Queen, a spoiled billionaire playboy from Starling City who was shipwrecked in northern China. In his subsequent five years away, Oliver learned how to fight and survive, maturing into the vengeful vigilante Green Arrow, seeking to bring justice to his corrupt home (now called Star City). In the present day of Season 5, Oliver has assumed the office of mayor while continuing his crusade against crime.
He's not alone. Oliver has welcomed a few important allies along the way:
John Diggle (David Ramsey), codenamed Spartan, a Marine veteran who began as Oliver's bodyguard but has since become his best and most loyal friend. He's married to Lyla, the head of A.R.G.U.S., a top-secret armed forces operation that deals in taking down terrorists, meta-humans, and even supernatural threats.
Felicity Smoak (Emily Bett Rickards), codenamed Overwatch, an expert hacker with a quick wit. Originally an employee in the IT department of Queen Consolidated, she became Oliver's must valuable supporter, providing him technical eyes and ears for their operations. They fell in love for a short time, having even gotten engaged, but they have since separated romantically and work together platonically. She has also been romantically involved with the Flash and Atom (more on them later).
Thea (Willa Holland), codenamed Speedy, is Oliver's sister and now assistant in his political office. She became a superhero after training with her father, Malcolm Merlyn (John Barrowman, once the supervillain Dark Archer) and inheriting equipment from her ex-boyfriend, Roy Harper, aka Arsenal (Colton Haynes, who has left the show). Although retired, photos of the crossover reveal she resumes the mantle once more.
New to this season and part of the crossover are a fresh crew of vigilantes training under the Green Arrow: Wild Dog, an urban warrior in a hockey mask; Mr. Terrific, a former Olympian and tech genius who started as an employee for Felicity; Artemis, an angry teenager who lost her family to the supervillain Damien Darhk last season; and Ragman, a young man whose family's ancient heirloom rags were awakened with powers after he survived a nuclear explosion in his hometown Havenrock, also caused by Damien Darhk.
Arrow, the namesake of the "Arrowverse," was the source for the spin-off The Flash and other characters that have joined Legends of Tomorrow.
The Flash
When Barry Allen (Grant Gustin) was a child, he saw his mother killed by a yellow lightning ghost. That ghost would be the Reverse-Flash, a speedster hellbent on tormenting the Flash at all time periods of his life, and his mother's death set Barry on the path to seeking justice as a forensic scientist. He made his debut in Season 2 of Arrow as a regular human looking to explain the unexplainable.
On the night S.T.A.R. Labs activated its breakthrough Particle Accelerator, Central City was plagued by a storm, and a stray lightning bolt shocked Barry into gaining superpowers. Central City is now home to criminal meta-humans, and it's up to Barry and his friends at S.T.A.R. Labs to stop them all. As the fastest man alive, the Flash is the impossible superhero, and an ally of the Green Arrow.
Two of Flash's most known enemies, Captain Cold (Wentworth Miller) and Heat Wave (Dominic Purcell), joined Legends of Tomorrow as reluctant members, becoming anti-heroes in the process. Currently, Captain Cold is believed dead, with Heat Wave dealing with that grief in ways only he knows how.
In Season 3, Barry tried to undo his mother's murder, which created the vastly alternate timeline called "Flashpoint." Forced to restore it by working with the Reverse-Flash, things went back to normal … sort of.
Like Oliver, Barry also has a crew he calls family:
Cisco Ramon (Carlos Valdes), codenamed Vibe. An uber nerd who talks in Star Wars references, Cisco is an engineering prodigy who helps build useful tools and gadgets for the team. He recently mastered his own superpowers — dimensional travel and clairvoyance — and goes by the name Vibe.
Caitlin Snow (Danielle Panabaker), codenamed Killer Frost. An expert biochemist, Caitlin has a chip on her shoulder after her fiance Ronnie Raymond "died" the night of the explosion. (He actually became one-half of the superhero Firestorm. More on that later.) After the event known as "Flashpoint" in Season 3, Caitlin got her own superpowers — generating subzero temperatures — and fears she may become Killer Frost, the supervillain identity her doppelgänger of a parallel Earth went by. She is currently going through some hard times as a result.
HR (Tom Cavanagh). This is complicated, but essentially, if you see a guy wearing a funny hat while talking nonsense, just know that he's from a different Earth and is supposed to be their mentor. He's failing at it, which is part of the comedy.
During Season 2 of The Flash, Barry Allen jumped dimensional portals and arrived into Supergirl in the crossover episode "World's Finest." Assisting an outmatched Supergirl (Melissa Benoist), they formed a tight friendship. In the upcoming crossover, Barry will recruit Supergirl to help fight the Dominators.
DC's Legends of Tomorrow
A crew of misfits from both Arrow and The Flash, the superheroes travel through time in Legends of Tomorrow to right "time aberrations," or instances where time is in flux. In Season 1, they were recruited by Rip Hunter (Arthur Darvill) to fight the immortal tyrant Vandal Savage. After their mission was a success, Rip Hunter disappeared, leaving the team without a leader. The team is now wandering throughout time and space looking for Rip, but they will return to 2016 to fight the Dominators in "Invasion!"
The "Legends" are made up of:
Sara Lance (Caity Lotz), codenamed White Canary. The sister of Laurel Lance and former lover of Oliver, Sara was on the ship stranded with Oliver but went on her own path, becoming a member of the League of Assassins and then the vigilante Black Canary. After being killed in Season 3, she was resurrected with the Lazarus Pit and had her soul restored by John Constantine (Matt Ryan) before adopting the identity White Canary after Laurel had already succeeded her old one. Since the absence of Rip, Sara has taken point as leader of the Legends, and has done quite a bang-up job.
Ray Palmer (Brandon Routh), codenamed the Atom. A rival billionaire to Oliver Queen, Ray bought Queen Consolidated into his own company Palmer Tech, but disappeared after an experiment with his breakthrough armored suit went wrong, shrinking himself to the size of an atom. In Arrow, Ray was restored, became a superhero, and joined the Legends as he was still conveniently declared dead. An ex-lover of Felicity, he is now developing a bromance with fellow Legends squadmate Citizen Steel. More on him later.
Jax (Franz Drameh) and Professor Stein (Victor Garber), codenamed Firestorm. Introduced in The Flash, Firestorm is a superhero who possesses two minds with one body. Originally, Firestorm was Stein and Ronnie Raymond, Caitlin's fiance, who sacrificed himself in The Flash's Season 1 finale. In Season 2, they found a match in Jax, a mechanic who was on the path to becoming a star collegiate athlete until the Particle Accelerator injured him. Together, they join the Legends hoping to find new purpose.
Amaya Jiwe (Maisie Richardson-Sellers), codenamed Vixen. Possessing an amulet that endows her with the powers of animals, Amaya comes from 1945 and was a member of the Justice Society of America (JSA). After a hostile meeting with the Legends, she pursues them when JSA leader (and her lover) Rex Tyler was murdered, believing they had done it. She now joins them to find the one who did. Amayah is also the grandmother of Mari McCabe (Megalyn Echikunwoke), who debuted last season on Arrow and starred in her own animated spin-off, Vixen.
Nate Heywood (Nick Zano), codenamed Citizen Steel. An archaeologist and a hemophiliac, Nate was the grandson of Commander Steel of the JSA. Tracking the Legends through time, he turns to Oliver Queen in the Season 2 premiere to help him find the team. They find their crashed ship, along with a cryogenically preserved Heat Wave, and reassemble the Legends scattered throughout time to find Rip Hunter. Although an average human in the beginning, Nate eventually gains superpowers, able to turn his body into steel and is now Citizen Steel.
Supergirl
In a separate universe, Kara Zor-El was a refuge from the planet Krypton and was sent to Earth to protect her baby cousin Kal-El. But her pod was knocked off course and floated in stasis for years, and when she finally arrived, her cousin had already grown up into Superman (Tyler Hoechlin).
After years of hiding among humans, Kara was forced to reveal herself to the world to save her sister Alex (Chyler Leigh) from an airplane disaster. Supergirl follows Kara's journey into becoming a superhero, balancing an ordinary life with one that's extraordinary. Like the Green Arrow and the Flash, she too has allies, although none appear to have a part in the crossover.
The "Invasion!" crossover begins with Supergirl on November 28.